Black Caviar's trainer was in high spirits yesterday after splashing out $775,000 for Ocean Park's half-brother.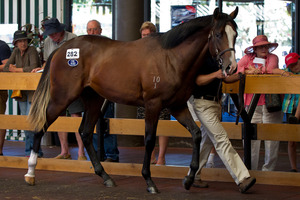 Peter Moody has been a good Aussie bloke for many years. Even having Black Caviar hasn't changed him.
He proved that when he paid $775,000 for the half-brother by Pins to New Zealand's best racehorse, Ocean Park, at Karaka yesterday.
Understandably, Moody was besieged by interviews after the purchase, the largest on Karaka's second day. Moody is as gracious as he is articulate dealing with anyone, but particularly the media.
He was asked for a television interview and handled the interviewer, a relative novice, with wonderful sincerity.
And added a bit of humour into the last questions. "What's the one bit of advice you'd like to offer someone," the interviewee asked, without mentioning the racing game.
"If you have a threesome make sure your wife is involved."
New South Wales' DGR Thoroughbred Services paid $360,000 for a Street Cry-Rose Of Tralee colt.
Any foal from Seachange will always attract attention. Her colt foal by Zabeel went through the ring, going to Australia's James Bester Bloodstock for $500,000.
Gary Hennessy said yesterday that Ocean Park had absolutely thrived since his stunning exhibition gallop between races at Ellerslie on Sunday night.
"He's just ready to race."
Gai Waterhouse paid $360,000 for a High Chaparral-Sorestan colt and greyhounds' Gary Harding, who has had a great run with classy filly Fix lately, put up $400,000 for the Flying Spur-Stella Livia filly.
David Ellis, the bigest buyer on Monday, was firing again yesterday.
The Te Akau boss laid out $620,000 for the High Chaparral-Our Echezeaux colt, put forward by Pencarrow Stud.
The total for this year's Premier Sale was $50,996,500, for an average of $158,374, compared with last year's aggregate of $54,137,000, for a $154,677 average.
The clearance rate was 79 per cent, five higher than last year. This year's top lot of $1,975,000 for the Fastnet Rock-Celebria colt exceeded the $1,750,000 for the Fastnet Rock-Nureyev's Girl colt last year.