It's great to find a sports boss who says what he thinks instead of mouthing corporate-style gobbledygook.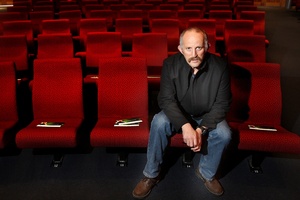 It will take a lot more than a few kooky comments from Gareth Morgan before I join the rush to give the Wellington Phoenix co-owner a bashing.
Morgan, the infamous Kitty Killer to some, is still a star in my book for daring to help save our only professional soccer club when the previous owner ended up in the financial doghouse.
Yes, Morgan's attack on the fans was a little weird. And yes, he dropped the phrase "total football" into the conversation as if laying out the training cones differently could turn Manny Muscat into Johan Cruyff.
But at least Morgan knows there are some fans, which is more than can be said for rugby, which still operates like a masonic lodge. It's refreshing to actually find a sports boss who says what he thinks instead of dumping pap, corporate-style gobbledygook on the public. If the Phoenix supporters were miffed by new owner Morgan, they should be double and even triple-miffed by longstanding coach Ricki Herbert.
The annoying part of the Morgan flare-ups is that they deflected the criticism and debate away from the real problem. Herbert has had long enough and players good enough. It is unacceptable for the country's soccer flagship to be playing this badly, and sit at the bottom of the Australasian club league. Horizons must be much higher.
You will hear a lot of funny excuses in sport but the one that the naughty A-league failed to advise Herbert it intended a leap in quality is a rib tickler of Seinfeld proportions. Even if you accept the standards are higher, what did the Phoenix expect - an email notice? The idea is to get the jump on everyone else, something the Phoenix could have contemplated, especially if Marco Rojas and a couple of other star escapees had hung around.
Herbert's reign has not been one of total failure, not by any means, but nothing lasts forever in soccer, except perhaps at Manchester United.
Paul Ifill remains the potential saviour and immediately showed his playmaking touch on his return against Newcastle, although - short of match fitness - he took the cheap-route killer pass every time. Ifill papers over the cracks, though. The gallant but limited Ben Sigmund's bullish charges from the back - soccer the old Kiwi way if you like - were just as much a raising of the white flag as moments of hope in the disappointing home draw against the Jets.
As can happen with any coach, Herbert may have run out of ideas, or just can't get through to the players any more. Force of personality, in its various forms, is a vital part of soccer management, especially over time. Herbert is a hard man to judge in my experience - his emotions and words come across as overly contrived and guarded. Bottom line: the world is full of good soccer coaches and a rot cannot be allowed to set in.
The Phoenix are the same ones we've watched for ages. Unless the wonderful Ifill pulls the trigger or Jeremy Brockie conjures up a goal, there is nothing overly dangerous for opponents to face. The Phoenix are often limp, have discipline problems, and lack coherence. And Morgan has played absolutely no part in that.
I like Morgan. He's a character. He speaks freely. He gets things done. Like anyone he ain't perfect, and doesn't try to be. His cat comments were sensational, yet not completely unhinged according to some experts who indicated he raised a legitimate conservation issue. We need mavericks like Morgan.
His scariest soccer statement was actually the one giving what sounded like unqualified support for Herbert, that he would remain at the club in some capacity. Keep it crazy, Gareth Morgan, and at the very least consider doing a u-turn on that one.
Mending fences
If Kevin Pietersen can be reconciled with the England cricket team - after doing the dirty on his old captain Andrew Strauss by texting the South Africans on how to get Strauss out - then getting warring New Zealand cricket characters Ross Taylor and Mike Hesson on the same page should be easy. Given the discrepancies in their memories of that infamous chit-chat in a Sri Lankan hotel however, it might pay to video any clear-the-air meeting for future reference.
Texts for today
Where there is text messaging, there is hope. We've got a swag of South Africans in the New Zealand cricket team, which means there could be a good flow of information from Pietersen on how to dismiss any fellow English batsmen he doesn't like. Then again, will he do the dirty, and send out false readings? You never know with that bloke.
Pietersen's happy return
While on that subject ... it's great to see Pietersen back in the English test squad. For all of his sins, he still has a rare x-factor, the sort that takes sports watching to another level. When Pietersen first appeared on the test scene, I would have sworn he had a technique ripe to be unravelled by the best test bowling. But with an average nudging 50 over 90-odd tests, he's well and truly dispelled that theory.
All eyes on Rojas
Mystery of the moment: can the fantastic Marco Rojas make it in a top European soccer league? Interest in the little All Whites magician has been shown by scouts from European clubs thanks to his terrific season for the Melbourne Victory. Here's the problem though - the world's elite soccer players have a lot of power these days. There was an example of that in the latest match involving the Wellington Phoenix, when the old England warhorse Emile Heskey swatted the tough defender Ben Sigmund to the turf. There are many top players a lot smaller than Heskey, but they are still very strong. Rojas might be too physically flimsy, although this is untested at high levels and he has the speed and skills to potentially beat the best. Let's hope Rojas does make it, particularly as he is such a joy to watch and will give New Zealand a new star to follow.