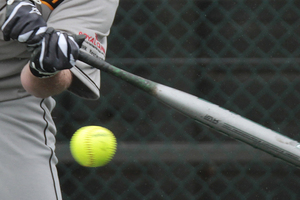 The New Zealand men's softball team has suffered an embarrassing defeat to an Auckland United All-Stars team just five weeks out from the world championships in Auckland.
The Black Sox were beaten 3-1 by the Auckland selection and it could have been worse - a fourth run was disallowed after the base runner failed to tag third on the way home.
The scratch combination, selected by organisers of the Vic Guth Tournament played in the weekend, were always on top of the national side who were playing their first game together as they build up to next month's world championships. They collected runs off all three New Zealand pitchers - Heinie Shannon, Penese Iosefo and Nik Hayes - used over the five innings played.
The lessons did not end with the scoreline. Black Sox reserve Nathan Nukunuku also slid aggressively into second, taking out short stop Tyson Byrne and clearing the dugouts in the process.
"Nathan paid us the ultimate compliment with his approach," Black Sox coach Eddie Kohlhase said.
"That's how teams will play against us at the world championships. That was one of the best things we took out of this game - the understanding that we can't take a backward step.
"In terms of combinations, it was the first time out on the park, we were a little bit rusty, we missed a couple of cut plays and our pitching can only improve. My message was, you don't a world championship on January 28. Our aim is to be ready by March 1."
Kohlhase took a fairly conservative approach to the match, keeping a number of his veterans on the sidelines for most of the game. Donny Hale was unavailable, captain Rhys Casley and fourth pitcher Jeremy Manley - both returning from injury - took no part (although Casley led the charge onto the diamond after Nukunuku's slide) and Thomas Makea was used only as a pinch hitter at the death.
Fatigue also played a part. All the Black Sox roster, including Casley and Manley, had just completed a full weekend of tournament play, and Shannon and Iosefo had just pitched the final of the Vic Guth Tournament, won 4-1 in extra innings by the latter's Northcote outfit.
"There were a whole lot of guys who had played seven or eight games, but we told them we had to replicate a world tournament, and we just had to get out there and play," Kohlhase said. "But it was the same for the other team.
"We have to work on our pitching accuracy, our fielding wasn't too bad and we haven't even started working on our running game. There were probably one or two situations where we would have done some things differently, but those are good things to work on."
From a wider perspective, the weekend was a success for Brad Rona, who led Northcote to victory with a two-run homer and MVP honours for the tournament. Casley, still battling back to full fitness after shoulder surgery, was top batter, averaging 0.538.
Rona and Casley were named along with Tyrone Bartorillo, Daniel Milne and Ben Enoka in the tournament team.
The Black Sox next assemble to contest the Brother Patrick Tournament in Auckland from February 8-10.
They open their quest to regain the world title they lost to Australia four years ago against Mexico on March 1 at Auckland's Rosedale Park and will also face Canada, Japan, Argentina, Philippines, Colombia and the Netherlands in pool play.
- APNZ