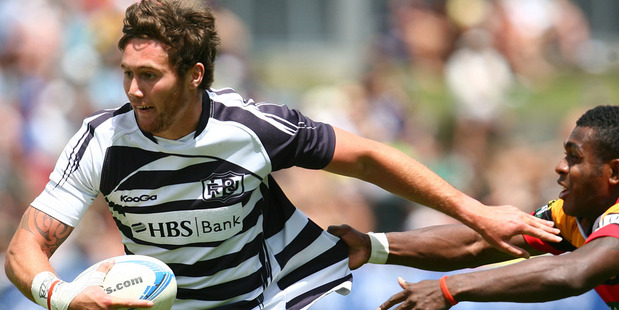 Making your international sevens debut in Wellington can be a blessing and a curse.
The New Zealand rugby public have fond memories of Victor Vito's barnstorming run down the touchline in 2008 or the debut of a 17-year-old Tanerau Latimer in 2004.
Players can put their name in lights - but they have to adjust to the occasion, which is almost as much about the party off the field as is the games on it.
New Zealand sevens coach Gordon Tietjens will give two new faces the chance to experience the home leg on their first appearance. Tietjens, who has an uncanny knack of unearthing eye-popping talent at the event in the capital, has named debutants Gillies Kaka and Rocky Khan in his 12-strong squad for this weekend's tournament, the fourth leg in this year's international series.
Hawke's Bay's Kaka gets his chance after impressing during last year's ITM Cup and at the recent national sevens tournament in Queenstown.
Khan has been on Tietjens' radar for a while and will play as a back-up to pivot Tomasi Cama.
"Talking to Gillies prior to the nationals I talked about what I wanted from him and he's certainly got out and excelled and he excelled at the nationals," Tietjens said.
"I've since contracted Gillies because of that. He's just impressed and he's also someone that's now into his third year, does know the game and again, he's taken that ITM Cup form with Hawke's Bay in to the sevens environment so, again, another opportunity for someone who is a very talented footballer."
Both will face plenty of pressure.
New Zealand have won the Wellington leg of the sevens series for the past two years and always have massive hometown support on finals day on Saturday.
They are grouped with England, Spain and the United States in Pool A and open their campaign against the English at 3.12pm on Friday.
Tietjens said the experienced players such as DJ Forbes, Tim Mikkelson and Kurt Baker would make a point of keeping the rookies in check this week.
"It's a big tournament. There are a lot of pressures and the pressure to do well obviously with the passionate rugby crowd that we'll have behind us," Tietjens said.
"But we've done well the last two years and this year it's about the younger players keeping their feet on the ground. But I'm very fortunate to have a real core group of experienced players that have been and played in Wellington for a number of years and they will no doubt certainly enlighten those younger players on the expectations of Wellington."
Aside from Khan and Kaka, 18-year-old Luke Masirewa, Canterbury's Sam Dickson and Belgium Tuatagaloa will be playing in Wellington for the first time, although the latter three have played for New Zealand before.
Tietjens also said to look out for Aucklander Ben Lam, who has played two tournaments in this year's series, including the last one in South Africa where the series-leading New Zealanders took the spoils.
"Ben Lam is certainly a player that impressed me in those two tournaments, particularly in South Africa. Just big, strong and fast in his first year in sevens and he learned so much in his first two tournaments and I'd certainly love him to be able to fire in Wellington. I think he's got exceptional talent and he's got a big future in the game."
New Zealand squad
Kurt Baker (Taranaki), Tomasi Cama (Manawatu), Sam Dickson (Canterbury), DJ Forbes (captain, Counties Manukau), Gillies Kaka (Hawkes Bay), Rocky Khan (Auckland), Ben Lam (Auckland), Luke Masirewa (Waikato), Tim Mikkelson (Waikato), Lote Raikabula (Wellington), David Raikuna (North Harbour), Belgium Tuatagaloa (Canterbury)
- APNZ