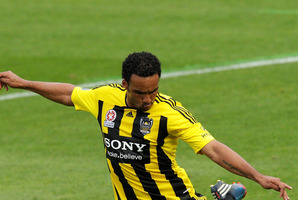 Maybe they watched different games.
You can spin a 1-1 draw numerous ways but it was interesting to hear the musings of the respective coaches following Sunday's stalemate between the Wellington Phoenix and the Newcastle Jets at Westpac Stadium.
"Yeah, disappointing I think," was Phoenix coach Ricki Herbert's initial reaction. "I kind of thought there was only one team in the game today. I didn't think we looked threatened at all and [when you] defend like that, get a player sent off and don't deal with the cross, I'm not sure they offered a lot more but I think we probably threw away two [points] rather than got one."
Jets coach Gary van Egmond was asked if he thought his side were lucky to sneak a draw after an Emile Heskey header in the 73rd minute levelled the scores following Louis Fenton's first-half goal for the Phoenix.
"No, not at all," van Egmond said. "Brain explosion by a player, they brought things back level again, which should never have happened and I thought we actually created some good chances in the first 15 minutes and I felt for the mainstay that we looked to try and control the game.
Even when we went down to 10 men I still think we tried to control the game and I thought we were a little bit slack on allowing them to get the opportunity to score their goal.
"But in regards to playing and moving and ensuring that we want to keep the ball on the deck I thought we did quite well."
Well, you can be the judge.
What did happen was both sides lost a player in the second half for picking up two yellow cards and the "brain explosion" Herbert referred to was Tony Lochhead's expulsion, which saw Heskey score from the resulting free kick.
Phoenix goalkeeper Mark Paston should have done better to get a hand to the ball in the goalmouth scramble but Lochhead's mis-timed challenge couldn't have come at a worse moment for him.
The All White has been under pressure to retain his starting left back gig lately as he has struggled for form, while the Phoenix also recently signed Ian Hogg who can play as a left-sided defender.
Lochhead will be suspended for next week's home-away-from-home game against Perth in Auckland on Saturday night and Hogg may get his first start for the club in place of Lochhead.
"As you know, we've bought him,'' Herbert said of Hogg. "It's sort of a three-month window to see if he can cut it as far as a longer term contract's concerned so it could well be a straight swap."
Manny Muscat was solid in the midfield for the Phoenix but they probably didn't offer enough to put the game out of reach.
The clearest cut opportunity of the game fell to Jeremy Brockie in the 18th minute when he was put through via a long ball from Ben Sigmund but the New Zealand international put his shot straight at Jets goalkeeper Mark Birighitti.
Few other chances fell to either side in a game that was a scrap at times in front of a poor crowd of only 6429.
Although the result left the Phoenix still in last place on the A-League ladder they're only five points back from Newcastle who are in fifth.
The Phoenix have been in the news for all the wrong reasons lately between their outspoken co-owner Gareth Morgan, underperforming players and a record-setting 7-1 loss to Sydney FC last weekend.
Morgan's comments during the week in which he labelled the attitude of some of the club's fans as "pathetic" didn't go down well with the club's faithful supporters.
Before the start of the game the Yellow Fever unravelled two banners, one that was a replica of a Phoenix scarf and the other that said 'Don't Stop Believin' in bold letters.
During the game the fans were on their feet as a chant erupted of "If you love the cats stand up" - a reference to Morgan's calls during the week to eradicate domestic cats because of the damage they do to New Zealand's birdlife.
Wellington Phoenix 1 (Louis Fenton 22)
Newcastle Jets 1 (Emile Heskey 73) HT: 1-0
- APNZ