After Ruud Awakening's easy Karaka Million victory trainer sets sights on Australia.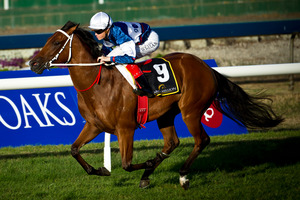 The Auckland Racing Club organisers were desperate to get Australian jockey Craig Williams to the birdcage presentation after last night's dashing $1 million New Zealand Bloodstock Karaka Million.
"Please hurry," one official urged Williams as the cast of thousands who own winner Ruud Awakening filled the victory dais and every available space in front of it.
Instead, Williams, who ticks every possible box in the public relations area, went over and patted Ruud Awakening.
Williams has more than last night's million dollar race in mind.
So, does Ruud Awakening have Australian potential?
"For sure," said Williams.
"When I saw her replays in Australia I was impressed, but she was more impressive tonight.
"You know, she has even more than what we saw tonight. She's a very, very smart filly.
"She has a good head to think with and outstanding ability.
"She is certainly up to Australian juvenile class."
So, after last night, is the Golden Slipper Stakes a possibility?
Perhaps New Zealand's first winner?
"That's the way we've been thinking," said trainer Stephen Marsh.
Last night's $550,000 Karaka Million first prize leaves plenty of latitude to pay the late entry fee for the Golden Slipper, a race Ruud Awakening is not nominated for.
There might be 10 shares in Ruud Awakening, but clearly some of those shares have multiple participants - there would have been at least 70 at the presentation.
Rugby legend Sir Colin Meads was one of them: "This is like winning a rugby test you weren't meant to win," he said.
Marsh said he didn't expect Ruud Awakening to lead.
"They usually go very hard early in this race.
"But when I saw how she was travelling under Craig I was pleased she was in front."
Stephen Marsh's father Bruce, a former top jockey with a Melbourne Cup on his CV, watched the race with his son.
"I was every bit as excited as Stephen," said Bruce Marsh, these days a successful Singapore trainer.
Fantastic Honour came from three back along the rail to finish a gallant second ahead of Touche.
•Four hundred metres from the finish of the New Zealand Bloodstock Insurance Karaka 3YO Mile rider Jonathan Riddell thought he was going to miss out on racing room.
Two hundred metres later Riddell had the opposite problem - his mount Choice Bro had too much room. Choice Bro thought his job was done once he got to the lead and switched off.
But it all worked out well - Riddell managed to keep the handsome colt going well enough to beat Single Act.
"Boy, did he switch off big time," Riddell told trainer John Sargent.
"Yeah, he can do that, so it gives you the chance to ride him cold," said Sargent.
Choice Bro has a brilliant sprint when produced into a gap. At the 200m he made his own gap between the leaders and sprinted very quickly, before buttoning off just as quickly.
The winner of $300,000-plus disappointed in a Queensland campaign as a late juvenile after winning the Manawatu Sires Produce.
"He went okay for the first couple of starts, then dropped right off," said Sargent. "We brought him home and spelled him and it wasn't until we put him back into work that we found he was lame behind.
"The x-ray showed a hairline crack of his back cannon bone, so he spent six weeks in his box."
Sargent said he will aim the Choisir colt at the Derby in March and see where that challenge ends up.
•Star galloper Ocean Park strutted his stuff in front of the Ellerslie crowd and no one was more impressed than rider Lisa Allpress.
"That track out there is very, very hard, but he was very, very comfortable," said Allpress, after he galloped comfortably alongside stablemate Dashing Thunder at the completion of an exhibition gallop.
Dashing Thunder has physical issues which prevented a potential sale to Asia, but he is known as an excellent trackworker.
He was being ridden along while Ocean Park was under a hold.
Despite appearing to be travelling easily, Ocean Park ran 1000m in 56.96, the 800m in 44.38 and the final 600m in 33.12. "He could race tonight if he had to," said trainer and part-owner Gary Hennessey.