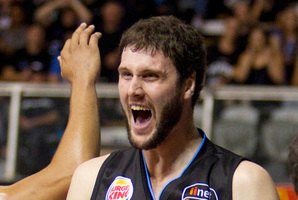 Alex Pledger's skills on the basketball court are well-known but, with a crunch game against Perth looming, he has also shown a hidden talent as a pitchman.
The Breakers won their ninth straight game against Sydney last night - a club record for a single season - and attention immediately turned to the top-of-the-table clash with their bitter rivals at Vector Arena on Friday night.
The defending champions' front office should have no problem selling tickets, given the two teams' history and what lies in the future, but Pledger was keen to ensure the game is played in front of the full house it deserves.
"It's going to be hyped up throughout the week as a possible grand final match-up," Pledger said. "It's going to be extremely high intensity and it'll be worth the price of admission, that's for sure.
"[Perth] have been playing very well, and they always save their best games for us. They've beaten us pretty handily twice this year. It's going to be a very good game and one we're excited about."
The Breakers have been playing pretty well, too. Their win over Wollongong enhanced their league-leading record to 17 wins and three losses, a record that has left every team in the Australian NBL well back in the rearview mirror.
Every team, that is, except Perth (13-4). Like Pledger said, they have dished out two hidings to the Breakers this season, as if seeking revenge for last year's grand final series won by New Zealand two games to one.
Speaking shortly after leaving the court in Wollongong, Pledger made no attempt to hide the significance of Perth's visit but he did emphasise it was more an entree than the main course.
"Of course we're thinking about them," he said. "It's obviously quite important. We'd like to end the [regular] season 2-2 against Perth.
"We're obviously going to get up for it and be pretty amped for it but, at the end of the day, it is just the 21st regular season game - not a playoff game."
That is instead what awaits in April, if all goes to plan. The Breakers' road to their previous two titles has gone through Perth in the playoffs and, as the only sides with winning records at this advanced stage of the season, it is safe to say another trip to the wild west will stand between the Breakers and a three-peat.
Despite their two heavy defeats - by a combined 46 points - the Breakers will be worried little by the Wildcats with the record-breaking form they are currently in.
Eight games in 30 days, six of which were across the Tasman, has enabled the Breakers to play themselves into a winning rhythm, and that continued in Wollongong.
They have faced and overcome a number of challenges during their successful streak - this time it was a game against their bogey team at a venue in which they have a poor record.
But after the Hawks stormed back into the game in the third quarter, a commanding 23-8 margin in the final period saw the Breakers run out winners by 17 points.
"It's a pretty tough place to win so we're feeling pretty good about things at the moment," Pledger said. "We've had a tough stretch of games and a lot of them have been on the road.
"It's a new club record and we're feeling pretty good ... we'll celebrate it a little bit tonight, but when we get home and step on the practice court on Monday this game is behind us and it's all about the Wildcats."
- APNZ