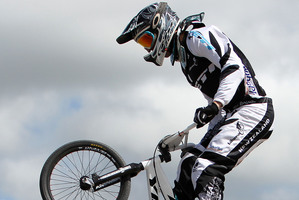 Young BikeNZ riders led by Christchurch's Daniel Franks and Te Awamutu's Cody Hobbs impressed in a UCI BMX event in Perth overnight.
Franks finished third in the elite men's competition where three kiwis made the final while Hobbs dominated the junior men's contest at the national series round on the Westside track.
BikeNZ's Ryan Hollows said while the event carried UCI qualifying points, the major goal is to gain invaluable racing and development for the young group in a key year that will be highlighted when Auckland hosts the UCI World Championships in July.
Teenager Trent Jones (Kaiapoi) was the fastest of the BikeNZ contingent in the time trial qualifying ahead of Franks (North Avon Christchurch) and Trent Woodcock-Takarua (Sunset Coast).
Five of the squad qualified from the three motos with Woodcock-Takaura winning his group, Kurt James (Cambridge) and Jones were both second in their respective groups, with Franks and Nic Fox (Gisborne) both fourth.
Australian Anthony Dean led home Franks, Woodcock-Takarua and Jones in the first semifinal while James and Fox both missed out in the second semi.
Dean and compatriot Josh Callen, who both narrowly missed selection to the London Olympics, proved too strong in the final.
Woodcock-Takarua crashed making a strong move to the front while Franks showed his poise to grab the final place on the podium. Jones, in his first year in the elite class, was sixth.
Hobbs, a qualifier in the junior elites at last year's world championships, was all class today. He was fourth fastest in the time trial, second with two wins and a fifth in the qualifying motos and then won his semifinal and led from the gate to win the final.
"It was a great ride from Cody today. He was very impressive," Hollows said.
"Most of the guys raced strongly. For most it is their first competition and there was some good opposition here.
"Tomorrow we will be back for the second day of the national series and I think we can improve further. They are a young group, and while some had international experience last year, we need this level of competition or sure."
Junior men time trials: Cody Hobbs (Te Awamutu) 33.051, 4; Ryan Lewis (Te Awamutu) 33.936, 9; Donald Ross (Whangarei) 35.993, 12
Qualifiers from motos: Moto 1: Lewis 6 points, 2 (2, 1, 3); Moto 4: Hobbs 7, 2 (5, 1, 1); Ross 9, 3 (2, 3, 4).
Semifinal 1: Nottle 1, Matt Hollobone (AUS) 2, Blake Moore (AUS) 3. Also NZers: Ross 5. Semifinal 2: Hobbs 1, Kerrod Connors (AUS) 2, Jordan Kecher (AUS) 3. Also NZers: Lewis 5.
Final: Hobbs 1, Aaron Nottle (AUS) 2, Joshua Smith (AUS) 3.
Elite men time trials: Anthony Dean (AUS) 31.581, 1; Trent Jones (Kaiapoi) 31.792, 2; Daniel Franks (North Avon Chch) 31.911, 3; Trent Woodcock Takurua (Sunset Coast) 31.922, 4; Nick Fox (Gisborne) 32,638, 9; Kurt James (Cambridge) 33,786, 13.
Qualifiers from motos: Moto1: Fox 12 points, 4 (3, 4, 5); Moto 2: Jones 5 pts, 2 (2, 2, 1); Moto 3: Franks 11, 4 (3, 5, 3); Moto 4: Woodcock-Takurua 4, 1 (2, 1, 1); James 6, 2 (1, 2, 3).
Semifinal 1: Dean 1, Franks 2, Woodcock-Takarua 3, Jones 4. Semifinal 2: Callan 1, Matthew Juster (AUS) 2, Thomas Hubert (AUS) 3. Also NZers: James 5, Fox 7.
Final: Anthony Dean 1, Josh Callan (AUS) 2, Franks 3. Also NZers: Jones 6, Woodcock-Takarua 8.
- APNZ