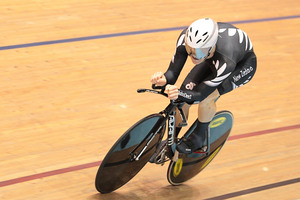 Two of New Zealand's most promising cyclists, Dylan Kennett (track and road) and Trent Jones (BMX), have been recognised as finalists in the emerging talent category of the Halberg Awards. They will face tough competition for the award from wonder-teen Lydia Ko (golf) and Andrew McKenzie (sailing).
We caught up with the two highly touted 18-year-olds from Canterbury to reflect on how they got into the sport and see what their aspirations are for 2013 and beyond.
What is it you love about cycling / BMX?
DK: I love the feeling of winning. I guess cycling is usually about the best rider winning, as an individual or as a team.
TJ: Things I most love about BMX are how the sport can vary with so many different aspects. Every track is entirely different from another, which always makes things interesting, especially at the higher level.
Even though BMX has become an Olympic sport, which requires great amounts of dedication/training, when it comes down to it you are still just riding your bike with a bunch of mates, which I don't think will ever change.
What is your best cycling memory?
DK: My first national title (also broke a national record - under-17 boys' 500m TT 2010); I was confident going into the race, but that feeling of pulling it off for the first time is amazing.
TJ: I have many great riding memories but one that probably stands out the most was my first national title at age 12. Nothing felt better going back to school the next week saying that I was the fastest in New Zealand.
How much work goes on behind the scenes to stay at the top of your game?
DK: A lot of hard training - around 20 hours a week, race selection, travel, management of fundraising...
TJ: With the sport progressing so fast there is a lot happening in the background to ensure I roll up to the gate on top of my game; everything from logistic work such as flights and accommodation to the small things of having my warm-down seat at the finish line.
Thankfully, I'm well supported by BikeNZ and HPSNZ, which enables us in the BMX high-performance team to function as one and get it all dialled in, so I can just focus on riding my bike.
How do you manage your body with peaking for certain events and not for others?
DK: A lot of races are used to get ready for bigger events, but myself and my coach Terry Gyde work together well and usually get it right. It depends on what your event coming up that you want to go well in is. All events I do require a good base fitness so I always start from there (I have had injury hold me back, though, and missed out on the base, which gives you an average performance for an event like the Individual Pursuit).
TJ: As every athlete knows, there are only so many events you can peak for a year. Before each season rolls around, my coaches and I will sit down and pick out key events that I'll aim to peak for and others that are not high priority. You just have to trust yourself that when those key events roll around you will be riding a lot faster than you are now.
Dylan, you race track and road for New Zealand - which do you prefer and why?
DK: Track is far more exciting. The crowd get to watch every move, they are always right there. It doesn't rain in the indoor tracks too, which helps. I guess I have targeted track a lot more than road, too, and got bigger results.
Trent, what sort of cross-training do you do away from the BMX track?
TJ: As BMX is a high-power explosive sport, the majority of training is spent in the gym. The sport requires you to be super strong and fast, which is mainly built from the gym programmes created specifically for me and my body.
What are your aspirations for the future, both on and off the bike?
DK: To win gold medals at Olympic and Commonwealth Games and also World Championships on the track. To be honest, I haven't thought about too much off the bike yet, possibly coaching?
TJ: The Olympics is definitely my goal for the future; 2016 and 2020 if all goes well. Other than that at this point of time I have no real plans for careers, but as I'm still quite young I have plenty of time to figure it all out.
How did you react to finding out you had been nominated for a Halberg Award?
DK: I was very happy. It's great to be recognised for my good 2012 year of racing and also happy to get another chance at a reward after missing out on the BikeNZ Best Emerging Talent award.
TJ: When I found out I was very grateful and honoured that I had been nominated, as not many people can say they have been in the same position.
What would it mean to you personally, and for your career, to win the award?
DK: It would be huge. I already feel a great sense of pride in making the final four. It would be amazing for my career and would make sponsorship/fundraising easier to get for sure.
TJ: Personally, it would be a great achievement which I would be super happy to win, but also would be a very respectful achievement to be able to have on my CV.
What are your cycling / BMX plans for 2013?
DK: I am riding in the under-23 New Zealand track squad so will be spending six months in Europe racing some of the biggest U23 road races and tours.
Hopefully some track World Cups as well, but my big goal is early on in the year: there is one spot for endurance men at Track Worlds (Elite Worlds) and I am training very hard to try and get an Omnium/Scratch Race spot.
TJ: [This] is a big year as it is the start of the four-year cycle leading into Olympics, so a lot of learning will be done in the next year.
But also the World Championships are being held in Auckland this year, and it is my first year in the elite level, so that will be my key event that I'll be targeting.
Dylan Kennett - Track and road cycling
Nominated for Best Emerging Talent at Halberg Awards
18 years old
Waimate, South Canterbury
Four medals at 2012 UCI Junior Track World Championships
Trent Jones - BMX
Nominated for Best Emerging Talent at Halberg Awards
18 years old
Kaiapoi, North Canterbury
Riding nine years
Three-time national champion