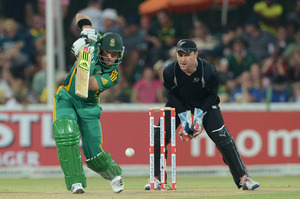 The New Zealand cricket side can legitimately feel pretty chuffed about the fact they won their first series in any format in South Africa but will board the plane tomorrow disappointed they won't be coming home on the back of an unprecedented 3-0 one-day whitewash.
They lost the final one-dayer in Potchefstroom this morning by one wicket when Ryan McLaren heaved James Franklin for six off the final ball of the match. South Africa needed three off the final ball to win and McLaren helped himself to a half-tracker from Franklin, who otherwise had a good game.
Graeme Smith guided his side to the brink of victory with a brilliant innings of 116 off 130 balls but the Black Caps still had their chances to win. In particular, they will look back on the fact Jimmy Neesham dropped a sitter in the deep when McLaren was on six and it would have helped them get into the tail earlier than they did.
But they have at least helped restore some faith among New Zealand fans left bewildered by their mauling at the hands of South Africa in the two-test series.
They showed plenty of fight and proved they can be competitive in limited-over cricket.
"It's disappointing,'' New Zealand skipper Brendon McCullum said. "It would have been great to win the series 3-0 but winning the series, achieving what we've achieved in this series and even how we've played today as well - we've showed the characteristics that we want to be known for.
"Graeme Smith's innings today was a phenomenal innings and deserved to be on the winning side. I still thought we showed some real character and some real fighting qualities to hang in there again, when we were behind the eight-ball, and get ourselves back in the game.
"It's been a fantastic series for us. Some significant strides forward and we now know that we are capable of competing against the best and we've got to make sure we do it on a consistent basis.''
It was undoubtedly an important match for South Africa, too. They might have just given up the No 1 ranking in one-day cricket but they are going through something of a transition period after a heavy focus on test cricket and were also without the combined power of Jacques Kallis (rested), Hashim Amla, JP Duminy (both injured) and AB de Villiers (suspended).
South Africa had never lost all matches in a three-match series at home and had never lost at Potchefstroom and were coming under scrutiny from locals not used to seeing their side lose.
"It was nerve-wracking,'' South African captain Faf du Plessis admitted. "It was very important for us as a team but there is a lot to work on.''
As was the case in the first two matches, New Zealand's batsmen prospered in the closing overs of their innings. Grant Elliott (54), Colin Munro (57) and Franklin (53 not out) hit half-centuries for the Black Caps who were struggling at 96-4 after 30 overs but added 164 runs in the last 20 overs to finish on 260 for nine.
South Africa were seemingly cruising when 165-2 in the 34th over with Smith and du Plessis at the crease but came close to repeating the collapse which led to a 27-run defeat in the second match in Kimberley.
Smith's needless dismissal, when he tried to loft Kane Williamson over long on, left South Africa needing 32 off 26 balls with four wickets in hand. They needed eight off the last over bowled by Franklin with two wickets in hand.
"I can't speak highly enough of the effort from our guys,'' McCullum said. "I thought today was a big day for us.
"On the back of winning the series, to be able to turn up and still play the style of cricket that we wanted and show the characteristics that we wanted was a really important step for us, too. It would have been lovely to get across the line, but we'll walk away with a pretty pleased series result.''
- APNZ