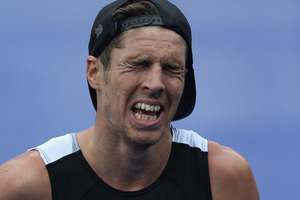 Triathlon New Zealand have made a number of difficult calls and trimmed their elite squad to only three athletes as they plot a way to try to get New Zealand reps back on the Olympic podium by 2016.
New Zealand had a disappointing London campaign when they failed to grab an Olympic medal for the first time since Sydney in 2000 and the sport is undergoing considerable change. There have been long-standing fears about the level of talent coming through in the sport and that will be tested over the coming years.
Today Tri NZ named a 14-strong high performance squad for 2013, down from 21, with only three in the elite 'podium' squad.
World No 3 Andrea Hewitt, who was sixth in London, heads that list and is joined by Kate McIlroy (10th in London) and Ryan Sissons (33rd).
Six others were named in the 'podium development' group (Simone Ackermann, Bryce McMaster, Sophie Corbidge, Rebecca Kingsford, Mikayla Nielsen and Tony Dodds) and five in the 'development' group (Maddie Dillon, Elise Salt, Sam Ward, Aaron Barclay and Andrew Ranford) as Tri NZ look to achieve success at the next two Olympics.
It means there is no room for the likes of Clark Ellice, who was a reserve for last year's Olympics, and Nicky Samuels, who was 35th in London.
Bevan Docherty and Kris Gemmell have both retired from Olympic distance triathlons, with Docherty switching attention to ironman, and Debbie Tanner has also retired.
"It's always difficult looking into the future," new high performance director Graeme Maw said. "You know some athletes and you try to think how they might project forward but there is some good talent there. With the senior athletes, it's always difficult because you are looking four years into the future and trying to figure out what might happen and be as objective as you possibly can.
"I spoke with Clark yesterday and he was one of the tougher decisions. Nicky was the same. These guys have raced consistently and solidly for a number of years for New Zealand and represented the country well. The objectivity here is about a projection towards the podium in Rio [in 2016].
"I look at someone like Clark who has finished about 20th consistently over the last four years in the world championship with no real variation in that. It's about where the progression is going. Sometimes you have to make a call that says, 'at the moment, Clark, there's not really the evidence to suggest you are getting close to a podium at a world level'."
A review of the sport identified the need to focus resources on a smaller number of athletes, although the high performance squad will be reviewed annually in light of targets set for each athlete.
Triathlon is now considered a tier 3 targeted sport in High Performance Sport New Zealand's investment strategy - relegated from a spot in the six targeted sports in the last Olympic cycle - but their level of funding has not dropped significantly. They were allocated $5.6 million over the next four years, down from $6.16 million between 2009 and 2012.
Maw said they will move quickly to implement a more centralised approach and hope to improve talent identification. They also hope to confirm soon the location of their national training centre - the current one is located at the Snow Farm near Wanaka.
- APNZ