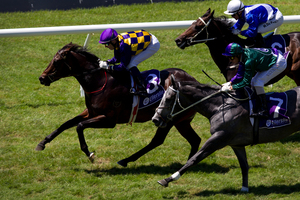 Yes, the Karaka Million can be won from an outside barrier draw.
The second favourite for Sunday's $1 million New Zealand Bloodstock Karaka Million, Gobi Ranger, has come up at $6.50 with the TAB, way shorter than the $2.40 for the favourite, Ruud Awakening.
Much of that disparity is because of the varying luck in respective barrier draws.
Ruud Awakening will start from a relatively comfortable No 7 and Gobi Ranger from one from the outside in No 13, often a tough ask.
But history shows it is not an impossible ask.
This is the sixth running of the Million. In the first running, winner Vincent Mangano came out of the extreme outside No 14 barrier.
The next three runnings were all won from inside gates: The Heckler from No 2 and Sister Havana and Fort Lincoln from No 1.
Last year, Melbourne colt Ockham's Razor came out of gate No 12.
Gobi Ranger's trainer Danica Guy says she's not one to stress too much about barriers.
"You get what you get and you just have to work with it. There's nothing you can do about it."
Guy says she is confident her horse will handle anything James McDonald asks of him.
McDonald promised Guy he would come back from his base in Australia to ride Gobi Ranger in this one race after riding the youngster in barrier trials in the spring.
"I certainly won't be giving James any riding instructions. He's got the experience to know what to do.
"But if he decides to go forward the horse will handle that and if he elects to drag back and take a sit he won't start pulling. He's a very tractable horse."
Guy declared after Gobi Ranger won at Ellerslie on January 1 that the colt is quite gross and needs his work.
"He actually got away on me late last week and we had to give him a serious piece of work on Tuesday morning.
"He handled it very well and he won't need to do anything else."
Australian jockey Craig Williams will be sitting on Ruud Awakening's back for the first time, but don't expect that to make a difference - no one does their riding homework better than Williams.