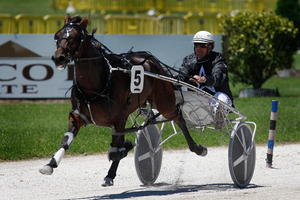 Dreams of success in harness racing's greatest races won't come true this weekend, but plenty of them could be shattered.
While domestically Gold Ace and Sir Lincoln at Alexandra Park will be the only true stars unleashed, across the Tasman an invasion of Kiwi talent will swarm into Victoria.
That starts tonight at Ballarat, where New Zealand-trained horses will contest the A$150,000 Cup, heats of the Australasian Trotting Champs and the A$20,000 Pure Steel.
Tomorrow night the action moves to Melton, where four Kiwis will remarkably clash in the same last heat of the Victoria Derby.
They are chasing a place in next Saturday's A$200,000 Derby final, while those at Ballarat are being aimed at the Trotting Final the same night, and the pacers are on track for the Hunter Cup and Interdominions.
But to have any chance of even starting in, let alone winning, those races, the New Zealanders need top-level performances this weekend.
The Ballarat Cup is the biggest race of the weekend but the Kiwis will be at good odds after both Mah Sish and Auckland Reactor drew the second line.
That is made much worse by the fact a rejuvenated Sushi Sushi has drawn the ace.
After his last start brilliant Bendigo Cup win, Sushi Sushi is rated a $2.10 win chance and is expected to try to lead all the way.
Trainer Mark Purdon is expecting an improved performance from Auckland Reactor, while Mah Sish never runs a bad race and looks at least a place chance.
Purdon won the Ballarat Cup at 100-1 with Highview Tommy last season but it is a measure of just how poorly he performed at Bendigo last start that he has been relegated to the $20,000 Pure Steel tonight.
He meets fellow Kiwi reps Four Starzzz Flash and Bettor Dream in the 2710m standing start.
All three are using the race as a lead-up to next Saturday's A$400,000 Hunter Cup and Four Starzzz Flash has been smashed with Australian bookmakers, moving from $4.20 to $2.80.
His driver Dexter Dunn is confident.
"He has improved a lot lately and is very good from a standing start," says Dunn.
"He has travelled well, is eating and drinking up and I think he has a great chance because he should be handy."
Bettor Dream, for trainer-driver Tony Herlihy, has a second-line draw so will do well to get into the top three but is in career-best form.
Earlier on the Ballarat programme, trotting star Dr Hook has his first start for new trainer Mark Purdon in the second heat of the Australasian Trotting Champs.
He has barrier one, which could be slightly tricky for him, but on class stands out, especially having a rare race away from I Can Doosit and Stig.
Exactly how all four New Zealand-trained entries for the Victoria Derby ended up in the same heat at Melton tomorrow is hard to fathom and it means at least one of them is likely to miss out on the classic.
Bit Of A Legend returns to Victoria as the Australasian Breeders Crown champion and could start favourite after drawing barrier four as key rival Ohoka Punter has drawn the outside of the front line.
Ohoka Punter has been outstanding this season though, including beating Bit Of A Legend fair and square twice and he trialled in sensational style at Alexandra Park last Saturday.
Still, his trainer-driver Herlihy knows tomorrow night is all about qualifying so he may be tempted to drive conservatively, suggesting Bit Of A Legend is the better bet.
Also contesting that heat are Arden Rooney and Cyamach, while Kiwi pacer Three Pints will contest an earlier heat.

Kiwi invasion
*Up to 14 Kiwi-trained stars will contest races in Victoria this weekend.
*They include tonight's A$150,000 Ballarat Cup and tomorrow night the heats of the Victoria Derby.
*Four Starzzz Flash has been smashed in pre-post betting for tonight's Pure Steel at Ballarat.
*Four New Zealand pacers will contest the same Derby heat at Melton.