Clash of Gold Ace, Sir Lincoln highlights return to racing at Alexandra Park tonight.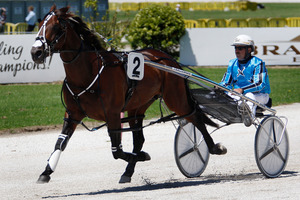 Gold Ace will be looking to make a slight correction to the great anomaly of his career at Alexandra Park tonight.
Racing returns to Auckland's harness headquarters for the first time this year with a bonus for fans of the top horses - a $12,000 sprint featuring two of pacing's biggest guns.
Not only will Gold Ace square off against Auckland Cup winner Sir Lincoln but the race also contains last-start Futurity winner Easy On The Eye and Kiwi Ideal, who has won his last six on end.
Gold Ace's trainer Steven Reid holds the key to the race, also training Easy On The Eye, Kiwi Ideal and Victor's Delight.
That, coupled with the fact Sir Lincoln has drawn the outside of the front line, suggests Reid should train the winner and that should be Gold Ace.
But life hasn't always gone to plan for Gold Ace at Alexandra Park, especially compared with his outstanding overall form.
He has won just four of his 11 starts on his home track and hasn't won a real race here in over two years.
Gold Ace did officially win a race at Alexandra Park 18 months ago but it was a two-horse, non-tote Australasian Breeders Crown heat.
At Addington and Cambridge, Gold Ace has looked a machine at times but luck often hasn't gone his way at home, although he has rarely raced there in the last season.
Trainer Steven Reid is not concerned by the statistical anomaly, more so a recent quarter crack which he hopes Gold Ace is over.
"I am actually really happy with how it has grown out," said Reid.
"And we will work on it with his shoeing this week so I think it won't be an issue.
"But because he had it, he missed a little bit of work.
"Over 1700m this week, I am sure he will still be good enough to win but I am just as sure he will improve going forward."
Gold Ace has developed into our best sprinter, having led and won the New Zealand Free-For-All and Flying Mile in two of his past three starts.
He has sheer gate speed and a naturally high cruising speed and with mainly stablemates drawn inside him it would surprise if he can't press on to lead tonight and dominate.
Gold Ace will be without regular pilot Tony Herlihy though and will have young reinsman Simon McMullen in the sulky.
"That is a reward for all the great work Simon has done with the horse," said Reid.
"He has put massive hours into him in the last couple of years and he knows him very well.
"Even though he doesn't drive that often he drives very well so I am happy to have him on."
Easy On The Eye should have the gate speed to lead early but would seem likely to take a trail, not just because Gold Ace is his stablemate but because he is simply a better horse.
Reid hopes Kiwi Ideal will one day measure up to his other pair in open class but doubts that will be tonight.
"He is being set for a Chariots Of Fire campaign in Sydney so he is very much on the way up."
Which leaves Sir Lincoln who, like Gold Ace, is a slashing sprinter.
His season has been one long series of niggles and interruptions and he still didn't look razor-sharp at the Alexandra Park workouts last Saturday.
Drawn to lead he would be a great chance but down a little on confidence, he is more likely to settle back and try to hit the line feeling good, which makes him difficult to support with confidence.
Reid's other star pick for the night is Black Frost in race 11, on the 13-race card.
"He is working well and the field doesn't look overly strong so I am sure he gets his chance this week."

Back to Alexandra Park
*Racing returns to Alexandra Park for the first time this year.
*Gold Ace and Sir Lincoln headline the major sprint.
*Both have had interrupted summer campaigns.
*Champion driver Tony Herlihy will miss tonight's meeting.