Dumped jockey's manager may appeal JCA decision, which he labelled 'nonsensical'.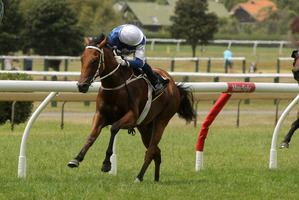 The team behind shunned Karaka Million jockey Jason Waddell are investigating appeal options after he lost the ride on race favourite Ruud Awakening yesterday.
Waddell has been replaced on the exceptional filly for Sunday's $1 million race by globe-trotting jockey genius Craig Williams.
That blow was made even crueller for Waddell when Ruud Awakening drew ideally at barrier seven, which, along with Williams' pulling power with punters, will see the filly start a warm favourite.
The connections of Ruud Awakening won a hearing yesterday of their application to replace Waddell, who had 12 days ago confirmed he would ride her instead of fellow Karaka Million hotshot Gobi Ranger.
Waddell and Ruud Awakening's trainer Stephen Marsh are good friends - or should that be, were - but the problems started when Waddell couldn't make the 54.5kg weight for engaged rides on Marsh runners at Trentham last Saturday.
Whether it was anger, frustration or fear the same thing could happen this Sunday, because of Ruud Awakening's 54.5kg weight, Marsh and his owners sought to change rider.
A JCA panel at Te Rapa yesterday ruled in their favour and Williams gets the chance to defend the Karaka Million he won last season.
That decision has left Waddell gutted and his manager Darryl Anderson looking for options.
"After being in that hearing I think we have to investigate all avenues of appeal," said Anderson.
"The ruling was nonsensical."
Anderson questions how and why if there was no engagement for Waddell to ride Ruud Awakening, why her connections even went to the JCA.
"If they believed they didn't have a confirmed booking with Jason surely they could have just declared Craig Williams as the rider and then we would have had to seek a JCA ruling."
Anderson says the booking for Ruud Awakening was made the same as any other he books as a jockey's agent - via phone or text.
"So does this mean all bookings jockeys and agents make can be changed up until acceptance time from now on?" asks Anderson.
He was to talk to Waddell last night about further action, which will almost certainly be unlikely to see him get back on Ruud Awakening, but could be aimed at compensation in the form of a riding percentage.
"But one of the real shames of this is that Jason and Stephen were good mates but now that relationship has collapsed."
The story, which doesn't leave a good taste in anybody's mouth, of course, has two sides. Marsh, for all his talent, doesn't get to train the favourite in $1 million races every day of the week and it is easy to understand his concerns after last Saturday's weight debacle at Trentham.
In fact, yesterday's hearing heard that Marsh had told Waddell if he couldn't ride at 54.5kg last Saturday, he would have no confidence in him doing so this Sunday. Couple that with pressure from owners and the fact one of the world's best jockeys was able to jump on board and Marsh's decision is easier to reconcile.
The best horse trainers are perfectionists and the last thing they want in the crucial final days of build-up to the biggest race of their season is uncertainty.
And Waddell, an immensely popular jockey and underrated rider, put himself in a precarious position by missing those two rides at Trentham, even though it may not have been his fault because of travel problems.
But one thing is for sure.
The fairytale of two racing young guns, who had dreamed of winning the Karaka Million together, is over.