Three women who are at the summit of their game tell of the challenges and barbs they had to overcome at the board tables.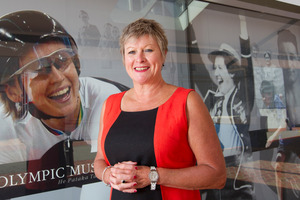 It was having her place at the Hurricanes' boardroom table questioned that reinforced to Liz Dawson the reason she was there.
About three years ago the challenge came from provincial rugby identities, who insisted that the Hurricanes board needed people with strong "rugby pedigree".
"It was the time the provincial unions began to get interested in whether they should take ownership of the franchises and how that would operate and they noted they needed people on the board that had real rugby pedigree," Dawson chuckles, recalling the incident.
It was a thinly veiled swipe at Dawson, who is now a shareholder in the Hurricanes franchise. But, undeterred, she went away and looked up the definition of the word "pedigree" in the dictionary and noted that it referred to breeding.
"My father [Frederick] was a very good rugby player, so I went away and did some research to see what I could dig up," she said.
"I found a beautiful photo of him as a young man in the Second World War at Maadi Camp, and he was in the New Zealand Armed Services team."
She never bothered to point out the flaw in her detractors' arguments, instead she keeps the photo of her dad on her screensaver of her iPad as a reminder to herself of her "rugby pedigree" and why she loves the game.
"It is just something that I can hold and know for myself," she said.
There is no trace of bitterness in Dawson's words - she recalls the time more with amusement than anything else, but then, with over 20 years' experience in sports management and governance roles, she has learned to develop a thick skin.
After working for a string of blue-chip companies, Dawson started out in the sports industry as marketing manager for the NZRU in the early 90s, before moving on to take up a role as general manager of marketing for the Warriors in their inaugural year.
She was then recruited to run the Adelaide Rams - a start-up team in the short-lived Super League competition.
Dawson described her time with the now-defunct Rams as a "baptism of fire" - she was the first female chief executive in a sport that was not culturally attuned to having women in their organisations, let along running the show, at a very divisive time for league.
"Rugby league is a very tough sport to be involved in, it is very political - particularly at that time, as is often the case when there is big money involved."
On returning to New Zealand in 2004, Dawson re-established her involvement with rugby, taking on a directorship with the Hurricanes. Despite having built up an enviable CV in sports administration, Dawson said she never took the position for granted.
"I was extremely well prepared, I had done all the homework on what was happening with the franchise situation, what their relationship with the NZRU was like, how the players were contracted, what the coaching situation was, so I did a lot of research on that," she said.
"Whether you're a man or a woman, you can't just walk up and expect to be elected or appointed because you are who you are."
Dawson, who is also on the boards of New Zealand Racing and the Wellington Regional Stadium Trust, was halfway through her third term as an independent director with the Hurricanes when the franchise licence came up. The licence was awarded to a consortium led by the Wellington Rugby Union and a number of high-profile businesspeople from the region, including Dawson.
"I saw that as a real opportunity to continue my involvement and be part of a new era and I think that is very exciting for the organisation," she said.
Kereyn Smith, the NZOC secretary-general, is another of a rare breed of women who have helped set the strategic direction of a Super rugby franchise.
Smith served on the Highlanders board in 2010, before she was forced to step down after taking on the top job at the NZOC.
Despite rugby boardrooms in New Zealand being virtually an exclusive male domain - as was highlighted by Dr Judy McGregor's Census report on women's participation - Smith was not intimidated by the testosterone-driven environment.
She said her previous experience with the Hillary Commission and South Island Academy of Sport had prepared her.
"The thing is I've been around sport a lot and sports leadership in general is pretty male dominated at senior levels around New Zealand and internationally, so it wasn't something I was fazed by," said Smith.
"But notwithstanding that, it's not always very easy. You go to functions and events and it is predominantly a male network that revolves around a game that most of them have played and are deeply passionate about."
Smith would have loved to have remained on the Highlanders board, but the demands of her job in Wellington meant she couldn't give the Highlanders post the energy it required. But she remains proud of what the franchise has gone on to achieve after putting the "building blocks in place" in 2010.
"I was on the board when the Highlanders kind of hit rock bottom and it was really important that we got the right coaching environment in place, and the right facilities and support for the team," she said.
If rugby boardrooms are dominated by the old boys' network, the NZOC has been a refreshing change for Smith.
"Currently we would be seen as quite a unique national Olympic committee, whereby our board is around 50 per cent female representation and we obviously have a female secretary-general, that is quite unusual in the Olympic community - as I have discovered," she laughed.
As part of the Olympic charter the IOC has a commitment to promoting gender equality within sport, but it is a challenge for their own organisation as well. The Olympic community as a whole is a conservative institution, often dominated by former male athletes who enjoy the opportunity to reflect back on their glory days in sport. With limited pathways for females in their national organisations, the IOC can struggle to find candidates to fill international postings.
"The IOC have set targets for the international community, so they must adhere to that themselves, which has certainly been a challenge for them - from a governance perspective anyway," said Smith.
The blazer-wearing brigade at the New Zealand Swimming Federation (now NZ Swimming) didn't quite know what they'd struck when a young Katie Sadleir took her place at the boardroom table for the first time.
Sadleir was just 23 when she was appointed to the swimming board, which at the time was a very conservative organisation heavily steeped in tradition.
"That was a fascinating experience as it was very much a male-dominated board and they were quite a lot older than me," said Sadleir.
"I used to turn up to these meetings and I was a student so I was probably in my tracksuit, and you'd get these males all turning up in their club blazers with their swimming patches and it was very formal - so I was probably perceived to be a little bit odd."
While most aspiring sports leaders serve out their apprenticeship on club and regional bodies, Sadleir, a Commonwealth Games bronze medallist in synchronised swimming, leaped straight onto a national board.
She was invited to join the board by virtue of her competitive background and strong knowledge of the sector through her sports management studies.
Sadleir said that while all the board members were extremely experienced in swimming administration, they lacked commercial acumen and broader knowledge of the sports industry.
"I had to learn to balance my enthusiasm for making things happen quickly versus the traditional resistance to change in national sporting organisations."
Now, 20 years on, Sadleir serves on the board of both High Performance Sport New Zealand and Sport New Zealand.
The Canadian-born sports administrator believes the mentoring programmes run by the NZOC and Sport NZ to encourage women into leadership roles have helped create a strong base of "board ready" women, but there remains a lack of opportunities.
"One of the biggest challenges in these targets ... is that to put women on boards, you have to remove men. And people are so passionate about their volunteer experiences.
"A lot of board positions like volleyball and badminton aren't paid directorships, people are there because they love the sport - they don't always see the value in having a different perspective."

The Grass Ceiling Series
Tuesday: With this year's sporting powerbrokers list once again dominated by men, we looked at why there are so few women in sport's corridors of power
Yesterday: We looked at the glaring gender imbalance in rugby boardrooms throughout the country, leading some critics to label our national sport as a sexist institution.
Tomorrow: We wrap up the series by examining where to from here for our national sports organisations.