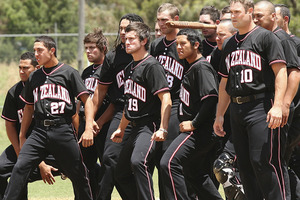 The New Zealand men's softball side might be at home for this year's world championships but they were handed no favours in the draw that will pit them against three of the game's top nations including four-time champions Canada.
The Black Sox will open their quest to regain the world title they lost to Australia four years ago against Mexico on March 1 at Auckland's Rosedale Park and will also face Canada, Japan, Argentina, Philippines, Colombia and the Netherlands in pool play.
"It's a very, very demanding draw," Black Sox coach Eddie Kohlhase said. "Canada, Japan and Argentina are three of the big powers in world softball.
"It's a tough draw, not just in terms of qualifying for the quarter-finals, but also building up some powerful momentum going forward. It will be a real test for us. It's a really early and quite exciting challenge."
Canada have been New Zealand's traditional rivals at the tournament. Like the Kiwis, they have taken the crown four times, last winning in 1992 when they beat the Black Sox in the final, but they also lost to New Zealand at the final stages in 1996 and 2004.
"They're always a very tough team to play," Kohlhase said. "They have powerful pitching - they throw the ball very hard - and like most Canadian sports teams, they try to dominate you physically."
Japan was the other team New Zealand had to overcome on the way to three consecutive world title between 1996 and 2004 - they beat Japan 2-1 in the 2000 final at East London, South Africa.
"Their current coach was the pitcher in that final," Kohlhase said. "They're a very fast team. Japan are beautiful fielders of the ball and quite electric on the base paths.
"They have a lot of lefties, and have very strong pitching and hitting. They'll be a real test."
Argentina are one of the emerging powers in world softball and took out the junior world title at home last year, when New Zealand finished sixth.
"They're like their rugby teams and soccer teams," Kohlhase said. "They're fantastic at home.
"Argentina are a strong softballing nation. They have a couple of outstanding pitchers on the North American circuit and, like Japan, have a lot of lefties."
The 16 teams have been divided into two pools of eight, with the top four progressing to quarter-finals. The other pool is headed by titleholders Australia and four-time champions the United States.
Draw for the world softball championships at Rosedale Park, Auckland, from March 1-10:
Pool A - Australia, United States, Venezuela, Great Britain, Czech Republic, South Africa, Indonesia, Samoa
Pool B - New Zealand, Canada, Japan, Argentina, Philippines, Mexico, Colombia, Netherlands
March 1
9.30am: Great Britain v Samoa
10.30am: Colombia v Philippines
Noon: Indonesia v Czech Republic
1pm: Netherlands v Japan
2.30pm: Venezuela v South Africa
3.30pm: Argentina v Canada
6pm: Opening ceremony
7.30pm: NZ v Mexico
7.30pm: United States v Australia
March 2
11am: Australia v Indonesia
Noon: Samoa v United States
1.30pm: South Africa v Czech Republic
2.30pm: NZ v Colombia
4pm: Venezuela v Great Britain
5pm: Canada v Philippines
6.30pm: Netherlands v Mexico
7.30pm: Japan v Argentina
March 3
11am: Mexico v Canada
Noon: South Africa v United States
1.30pm: Indonesia v Samoa
2.30pm: NZ v Japan
4pm: Philippines v Argentina
5pm: Great Britain v Australia
6.30pm: Colombia v Netherlands
7.30pm: Czech Republic v Venezuela
March 4
11am: Argentina v Netherlands
Noon: Great Britain v Indonesia
1.30pm: Czech Republic v United States
2.30pm: Philippines v Mexico
4pm: Japan v Colombia
5pm: South Africa v Australia
6.30pm: Venezuela v Samoa
7.30pm: NZ v Canada
March 5
11am: Australia v Venezuela
Noon: Mexico v Colombia
1.30pm: Czech Republic v Samoa
2.30pm: United States v Indonesia
4pm: Great Britain v South Africa
5pm: Japan v Canada
6.30pm: Philippines v Netherlands
7.30pm: NZ v Argentina
March 6
11am: South Africa v Indonesia
Noon: Venezuela v United States
1.30pm: Japan v Philippines
2.30pm: Great Britain v Czech Republic
4pm: Canada v Colombia
5pm: Australia v Samoa
6.30pm: Argentina v Mexico
7.30pm: NZ v Netherlands
March 7
11am: Great Britain v United States
Noon: Indonesia v Venezuela
1.30pm: Colombia v Argentina
2.30pm: South Africa v Samoa
4pm: Netherlands v Canada
5pm: Australia v Czech Republic
6pm: Mexico v Japan
7.30pm: NZ v Philippines
March 8
Playoffs
March 9
Playoffs
March 10
Medal games
- APNZ