Weissmuller proves he's no Plain Jane with dashing win to stake Derby claims.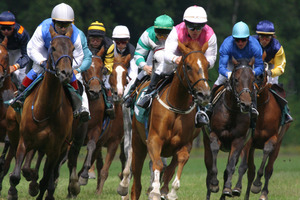 John Kieran is different. But make no mistake, he can train a horse. When Weissmuller won Saturday's $70,000 Phil Cataldo Wellington Stakes it was the effort of a superb horseman.
And a superb horse.
Kieran spent something like 20 years as a blacksmith in Perth, but the background has been horsemanship wallpaper.
He trains just three horses at his Te Horo beach centre, but this is about someone who would train just one ballerina to become famous.
"There is always room for a good horse at my place," Kieran told the Herald yesterday.
This is a bloke, in the mould of those who specialise in taking one good horse to the top, who do not measure success by numbers.
Kieran won the group one Auto Auctions at Trentham when it was switched from Otaki with relative unknown No Mean City.
"People didn't realise how good No Mean City was.
"He was a very good horse," high praise from John Kieran.
"I took him to Australia and there was an Australia-wide plunge on him at Newcastle and he won."
Kieran won the Adelaide Cup with Pillage 'N' Plunder when it was a group one race.
He knows what he's doing and he knows how good Weissmuller is and how good he might become.
"The thing with stayers is you have to give them time to mature.
"This horse has needed time and Saturday was just his third start. He can still mature, but there's only one Derby and that's what he's aimed at."
The Waikato Guineas on February 2 and the Avondale Guineas (February 16) are on the agenda for Weissmuller.