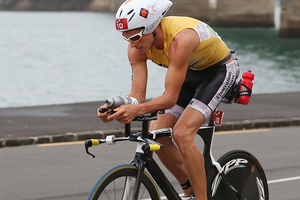 The cycle leg in today's Ironman 70.3 Auckland race came in for plenty of discussion from athletes and not just because of the slippery conditions and harbour bridge crossing.
Some of the professional men felt the 90km leg was blunted by the ability of cyclists to gain an unfair advantage by drafting. The race, which doubled as the Asia Pacific Championships, was run under Triathlon New Zealand drafting rules, which state cyclists must keep a gap of 7m from the front of the leading bike to the back of the following bike.
The gap is usually 12m for ironman events, and David Ray, the chief operating officer for Ironman Asia Pacific, said future races in New Zealand were likely to follow suit.
"I've spoken with the race referee and what we're going to try to do from here is get the New Zealand Ironman races, which is this one and Taupo, to adopt the ironman rules which is 12m."
Ray said an application would be made to Triathlon NZ. "I imagine Triathlon NZ would be supportive, but I can't speak for them.
"For those who compete internationally it makes a lot more sense ... and the 12m [gap] is a lot easier to control.
"At the majority of races now these guys and girls all swim pretty much the same, so it comes down to trying to keep them apart on the bike course."
Several competitors fell foul of the marshals and had to serve time penalties for drafting, including New Zealander Graham O'Grady, a winner of the recent Port of Tauranga half ironman, who finished 23rd today.
Great Britain's Paul Ambrose, who finished fourth behind Australian Christian Kemp and New Zealanders Bevan Docherty and Clark Ellice, was one to raise his frustration about those getting an unfair advantage on the bike leg, which crossed the harbour bridge, took in some of the North Shore, and returned to the Viaduct.
"It's disappointing for a big event like this," he said. "It should be the best man wins."
Ambrose turned out the fastest cycle leg of the day with a 2:09:30 split, more than a minute quicker than the next best, Tasmanian James Hodge.
- APNZ