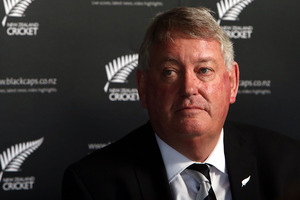 Former New Zealand captains, coaches, players and some of cricket's biggest names are aiming at gaining membership of a New Zealand Cricket board they feel has been under-performing.
Led by former New Zealand batsman John Parker, the former internationals have banded together to get past players with business acumen and governance experience onto the board.
When board chairman Chris Moller recently spoke of former top cricketers' apparent reluctance to serve on the board or in other key positions in the game, little did he know how bitterly his statement would resonate. His words have generated a movement.
The 61-year-old Parker played 36 tests for New Zealand and captained the side in one test against Pakistan in 1976. He was a Radio New Zealand cricket commentator for nine years, head of Sport Waikato for 12 years and has run his own sports consultancy company, the SMT Group, since 1997.
Known as "Dag", he is immortalised in cricket imagery as the batsman adjusting his gloves when West Indian fast bowler Michael Holding kicked down the stumps after being denied a caught behind at Carisbrook in 1980.
A veritable Who's Who of cricketers are interested in joining Parker's movement. They are receiving regular correspondence and sharing ideas about seeking nominations for the board through the six major associations. Sources told the Herald on Sunday a meticulous dossier is being compiled covering NZC actions and blunders of recent years.
The Ross Taylor captaincy saga and NZC's subsequent reaction have been the catalysts for change among the past player group. Taylor's axing may inadvertently prove to be an act of cricketing martyrdom. It has galvanised a critical mass of support which is determined to right perceived wrongs over the past two months.
The Parker movement appears to be a snub to NZC's December 20 plea to create more open lines of communication with former captains by holding an annual reunion to discuss ideas. In addition to the anger at Taylor's treatment, the movement is understood to be frustrated by a lack of former internationals on the NZC board since Stephen Boock moved to become president and Rob Hart resigned.
While the past players are mobilising now, they may not get voted onto the board until the annual general meeting later in the year. The independent review of NZC governance will first see a new constitution adopted at a special general meeting, most likely after the England tour. Those changes would see the board made up of six elected and two appointed members rather than the current eight elected positions.
Candidates may be able to self-apply rather than require a nomination by a major association. Current members would also need to re-apply.
It's understood candidates would still be filtered by a panel comprising the likes of the president, a representative from the major associations and independent observers from the Institute of Directors in New Zealand.
The recent governance review produced 39 recommendations from which a new constitution will be drafted. They include the following:
14. That in the next round of director elections, every reasonable effort be made to recruit one or more candidates with experience and knowledge of the current trends and developments in international cricket.
21. That the nomination process for directorship positions be opened to a wider pool of potential candidates, for example advertising on dedicated websites or other media outlets.
29. That the board consider the merits of reducing the number of elected directors to six with provision for the board to appoint up to two directors consistent with the requirements for good governance of NZC.
Last month, Moller said: "Once the special general meeting has been held and a new constitution adopted, I challenge former international players to put their names forward for a voluntary role as a director of New Zealand Cricket and go head to head through the appointments panel process with other candidates so that cricket in New Zealand can have the best possible board for its national body."
Parker and co intend to oblige.