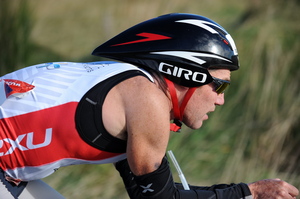 There is every chance Cameron Brown will be paying extra attention to weather forecasts and other external factors on the eve of major races this year after a couple of big disappointments in 2012.
Brown suffered major setbacks before his two biggest races last year - appalling weather conditions forced the Ironman New Zealand event in Taupo in March to be cut to a half-distance race, won by Belgian Marino Vanhoenaker, with Brown third. In October, he had to withdraw from Ironman Hawaii without taking the starting line after suffering from breathing difficulties in the days beforehand.
An allergic reaction to volcanic fumes left Brown suffering. In reflecting on it this week, he is sure he made the right decision to pull out.
"I went away to Boulder, Colorado, to prepare as well as I could," Brown said of his build-up to Hawaii. "I did some fantastic training but not to be able to start ... if I had, I think I would have given myself a heart attack.
It's the first time in an Ironman that I haven't been able to go down to the start line."
Brown has never won in Hawaii, where the wind and heat combine to create the world's toughest Ironman, but his successes at Taupo are legend.
He has won 10 Ironman New Zealand titles, failing only twice when conditions have forced the race to be halved in distance. It remains his priority.
He will use his run-out in today's Ironman 70.3 Auckland event as a warm-up for the big day on March 2.
Today's inaugural event, which involves a 1.9km swim in the harbour, a 90km cycling leg - including a crossing of the Harbour Bridge - and a 21km run, has attracted a strong field of international athletes and New Zealanders such as Brown and Bevan Docherty. Terenzo Bozzone dropped out yesterday with injuries suffered after he was hit by someone opening their car door when he was on his bike on Friday.
"Ironman is only six weeks away so I haven't tapered or eased off for this race," said Brown.
Docherty, the double Olympic triathlon medallist who will compete in his first Ironman event at Taupo, is likely to play a big part in today's race.
His speed is likely to come to the fore on the flat run section on Tamaki Drive but Brown said the step up to the full distance could be trickier.
"It's a tough one. Some people get straight into Ironman with a smooth transition and some people struggle. Bevan is a very hard trainer so he'll prepare well. But it's the fourth discipline, the nutrition, which you have to get right. Learning that, it's not as easy as it seems."
Last year wasn't a complete write-off for Brown, who raced well in Melbourne three weeks after his Taupo disappointment, coming a close second to world champion Craig Alexander in an extremely fast race. He also came second in Cairns and fourth in Germany.
At the age of 40, he isn't as fast as he used to be - "it's easy for the young guys to switch up for the halfs, there's a lot of speed involved, but for me it gets tougher and tougher every year, the speed" - but as always will be a different proposition in Taupo, weather permitting.
"Hopefully we'll get another drought and enjoy some nice hot weather."