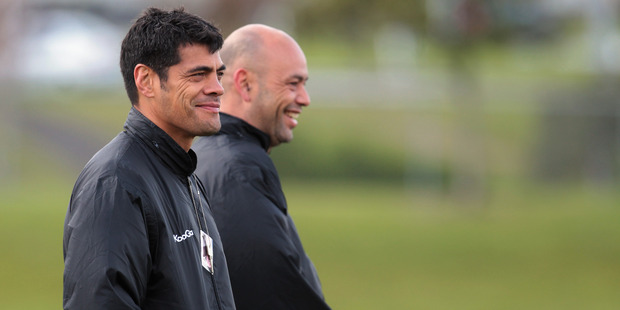 The Kiwis will take their first steps towards the retention of their title in Sydney next week, with an unprecedented pre-season training camp in Sydney from Friday to Sunday.
Between 30 and 40 players will be present at the 'Heritage Camp' in Manly, along with coaches Stephen Kearney and Tony Iro and other high performance and team staff.
"We see this as the beginning of the campaign," says New Zealand Rugby League high performance manager Tony Kemp.
"It's about getting together as a group, outlining plans and structures and setting goals and strategies."
While a large emphasis of this camp is October's World Cup, Kemp expects that the gatherings will become annual. Last year, the senior leadership group met on several occasions in Sydney and this camp is a logical extension of that.
"Historically, we have not been able to work a lot in high performance," says Kemp. "This has changed in the last few years and we want to continue to grow in that area and take as many chances as possible to come together as a group. We want this to become a fixed part of the calendar."
"Some of the players who come in haven't been involved with us over the last 12 months or so," says Kearney, "so it might be a bit of an eye opener for them. It's important to set the expectations now from a representative point of view for 2013."
The players will be released from their NRL clubs, despite the fact that many of them are marquee figures, with the NZRL giving an undertaking that any physical work will be kept to a minimum.
"It won't be so much physical as mental," says Kemp. "We know they have been training their butts off with their clubs, so there is no need for that."
There will be some light activities with the local surf lifesaving club on Manly beach but most of the time will be spent in workshops and presentations.
"There will be sessions on leadership, mental skills, sports science and medical aspects," says Kemp. "The coaches will also run their own sessions on the style of football we are aiming to achieve and there will be separate courses with our emerging leaders."
The camp has been funded from the high performance grant of $400,000 from Sport New Zealand in the latest round of funding targeting the 2013 World Cup. It completes a considerable turnaround for the game, which was regarded as a 'problem child' of New Zealand sport before former chief executive Jim Doyle began his rescue mission in 2008.
The NZRL also plan to recruit more staff for the campaign, including another member of the management team to complement Kearney, Iro and Kemp.
"We would like to get some additional experience there," says Kemp. "We have a couple of senior people in mind; we already have plenty of knowledge but grey hair brings its own wisdom."
The NZRL staff will arrive on Thursday in Sydney, with the players coming into camp on Friday afternoon. Former All Blacks coach Graham Henry was approached to address the players on Saturday evening but had prior commitments, though Kemp says they have other guest speakers lined up.