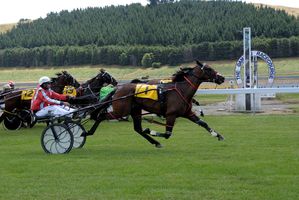 Robert Dunn's team have found their feet at Woodend Beach near Christchurch this season, but another type of surface should help Falcon Crown in the Oamaru Cup tomorrow.
The Christian Cullen gelding promised plenty early in his career, but endured a frustrating 2012 starting in the legs and ending in the lungs.
"He fractured a back pastern after his great early form," Dunn said.
"It wasn't a bad fracture, but we had to lock him up for three months, then put him out (in the paddock) for another three."
Dunn aimed the Ian Dobson-owned 5-year-old at the New Zealand Cup carnival, but that came unstuck too, as he ran a distant 10th behind Smiling Star on Cup day. "When we brought him back after all that time, we were very pleased with him going into Cup Week. but it transpired that he had a lung infection."
Falcon Crown was much better when he was running on the West Coast grass circuit before he over-raced at Blenheim on January 11, which flattened him for his run on January 13.
Dunn thinks punters should take his grass track form into account - particularly as his last grass-track run was behind Jason Rulz in the Reefton Cup. Jason Rulz went on to win the group 2 Pelorus Classic last Sunday.
"He came back (from Blenheim) bright as a button and that's why we nominated him late for the (Oamaru) Cup," he said.
"We think he's got a much better chance back on the grass."
Dunn is also confident with Cullens Spirit in the last event on Sunday. Dunn's son Dexter takes the reins and leading is the likely option - even from barrier number eight.
"He has got pretty good gate speed, so Dexter will be looking to lead and he'll be hard to bowl."
Dunn has 90 per cent of his racing team based at Woodend Beach, while the joggers and young horses are stabled at West Melton.
"We're pretty happy with how we're going - the beach is certainly a winner for us,"Dunn said.
One of Falcon Crown's rivals in the $12,000 Oamaru Cup is Van Washing Man, and his trainer Ben Waldron said the 3000m was the ideal type of race for him - although it depends on which version of Van Washing Man turns up on the day.
"I feel like the coach of the New Zealand Warriors sometimes," Waldron said. "It's not a talent issue for him."