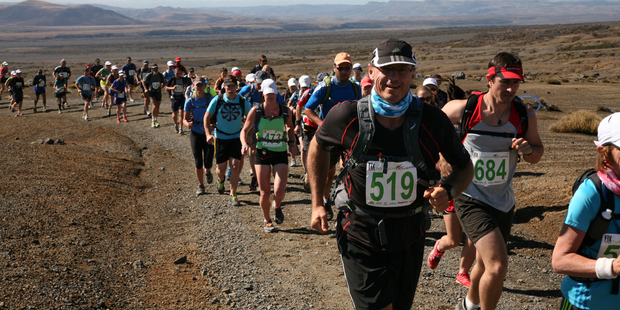 Northland's Jim Kettlewell will hold off making a final decision on whether he'll compete in next weekend's Tussock Traverse in the Tongariro National Park until the day before.
The 67-year-old, who is hoping to defend the Legends title he won last year, is in doubt after damaging his knee in a fall during training. He hopes it will come right this week as running the Tussock Traverse is an important part of his build-up to the Cape Brett Challenge in April. Last year, Kettlewell won the 60-plus age category when he ran 26km in 2hr 45min 46sec.
We caught up with the former air-conditioning sales engineer, who won an age group Xterra world title in 2011 in Hawaii, to see where his passion for off-road running comes from and his goals for this year.
How did you first get into running off-road?
I have been a competitive runner for only 35 years and was interested in tramping and mountaineering prior to joining a running club. I started running when I was working as an instructor at the Outward Bound School at Anakiwa.
I also bike and sail for enjoyment.
What do you enjoy about the Tussock Traverse?
I love being out in the wild outdoors and the Tussock Traverse around Ruapehu certainly has this. I have been running hills and forest trails to prepare myself for the Cape Brett Challenge and this is also ideal training for the Tussock. It is a tough run. I was the winner of the Legends division in 2012 and want to defend my title again this year.
What is the key to running well in alpine environments such as Tongariro?
You need to be ready for any weather conditions. The weather can change from mid-20s and calm like last year to snowing and blowing a gale, so having good clothing is a must. Good trail-running shoes help and having gaiters will assist in keeping the volcanic sand out of your shoes.
How much are you running in training at the moment?
I try to run most days of the week and twice a day, two or three days a week. A longish run of 2-3 hours once a week is a must with a good hill session mid-week for strength. In Whangarei, I use Mt Parihaka and Mt Manaia for my big hill runs.
What other events are you planning to run in 2013?
The Cape Brett Challenge is my main focus for 2013, with a good harrier season to follow. I am going back to run the Kepler Challenge which also appeals, along with running the Motatapu and Moonlight marathons down in Queenstown.
I love the big mountains, which is probably a reflection of my tramping and mountaineering background.
You won the Xterra age group title in 2011. How special was that on reflection and will you go back to compete this year?
Winning in Hawaii at the world championships was a career highlight, and going back would be great, but there are plenty of races here in New Zealand that I want to do first.
New Zealand has some of the best trail running you could find anywhere - and you don't have to leave home to find it.
What advice do you have for older runners who are looking to stay active?
Running for older runners is usually a way of life, so keep running. As you age you slow down but the stamina is still there, so the longer-distance events allow you to remain competitive.
How much longer will you run for?
I will continue to run for enjoyment until the body tells me to stop.

Tussock Traverse
Where: Tongariro National Park
When: Saturday, January 26
Event options: 26km (run/walk), 13km (run/walk), 6.5km (run/walk)
2012 Tussock Traverse Champions (26km)
Men: James Richardson (1:57:59)
Women: Emily Solsberg (2:28)