Herbert welcomes back Paul Ifill and Glen Moss in Sydney battle of bunnies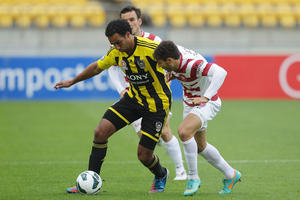 The game of the round for the wrong reasons as the two teams propping up the A-League square off in a game which could be the last hurrah for the loser at Allianz Stadium in Sydney tonight.
While Sydney FC have been the under-performers of the season, they pop up with the odd better performance to remind the opposition that a team built around Brett Emerton, Alessandro Del Piero and Yairo Yau cannot, surely, be bad all the time.
Toss in returning Joel Griffiths as a signing in the transfer window and coach Frank Farina will put his charges out tonight confident they can, for only the second time this season, win two in a row following last week's late, late show which earned them a 2-1 home win over the Melbourne Heart.
Sydney have won only five of 16 games but that is one better than the Phoenix who now prop up the table after winning just one of their last seven games.
Coach Ricki Herbert continues to put on a brave face but even he must be wondering when there will be a turn for the better. He will take some comfort in having his team only three points out of the top six play-off spots but that will count for little unless they can return to not only winning football but a game plan which will bring some confidence for a fading fan base.
Paul Ifill travelled to Sydney yesterday and will play off the bench tonight.
Before his month-long break with an ankle injury, Ifill was but a shadow of the player who had for so long led from the front which suggests the injury was more serious than either Ifill or Herbert wanted to admit.
"Yes, that might have been the case," Herbert admitted yesterday. "I still believe Paul has been, and can again be, the best player in the league. He has come back fresh and ready to show what he is capable of."
Herbert has also welcomed back goalkeeper Glen Moss after he too has endured a long injury timeout.
Games between the two clubs have been split this season with the Phoenix winning the season opener 2-0 at home and Sydney winning the round 10 clash, also in Wellington, 2-1.
Sydney FC v Wellington Phoenix
Allianz Stadium
Today 7.30pm (live SS2)
Referee: Kris Griffith-Jones
Likely Phoenix starting XI: Mark Paston, Leo Bertos, Ben Sigmund, Andrew Durante, Tony Lochhead, Vince Lia, Alex Smith, Dani Sanchez, Jeremy Brockie, Stein Huysegems, Tyler Boyd. Substitutes, Glen Moss, Benjamin Totori, Paul Ifill, Louis Fenton.