Auckland Aces and Black Caps bowler moved from medium swingers to be one of fastest in country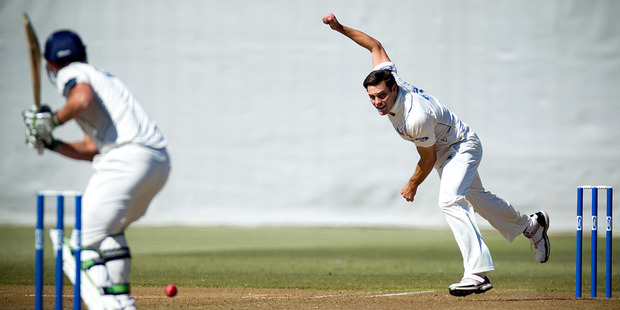 Kids, it pays to listen to your parents.
A piece of advice from his father has paid an impressive dividend for fast bowler Mitchell McClenaghan.
The strongly built left-armer's development will continue during the ODI series against South Africa, which starts in Paarl tonight after dipping his toes in international waters during the T20 series last month.
The Auckland quick made a decent first impression. After taking three for 19 in a T20 warmup at Pietermaritzburg, McClenaghan took four for 76 over the three games against the South Africans, was lively, got bounce and showed aggression.
He wasn't required for the two test matches, which might have given him time to reflect on the tip father Dennis gave him at 19.
"When I was growing up on New Zealand wickets, I bowled little medium swingers and that was how to take wickets," he said.
"One day Dad said 'there's a niche in New Zealand to bowl quick, so why don't you just run in and bowl quick'.
"It went from there. I didn't worry too much about accuracy but that's come along as my career's progressed. But I definitely went out initially and wanted to be the quickest bowler in the country."
McClenaghan moved south to try his hand at Central Districts, after battling to get beyond Howick Pakuranga's second team. His first-class debut came in 2007-08 - too early, he now acknowledges.
But injuries to his hips, which involved shaving bone off on both sides to stop what amounted to bone smashing against the socket, curtailed his progress so he returned to Auckland, finally got himself fully fit and hasn't looked back.
His eight for 23 wiped out Otago for 63 at Colin Maiden Park last season, and he finished the 50-over Ford Trophy as second top wicket taker with 16 wickets at 16 apiece, including bags of six against Wellington and five against Northern Districts.
McClenaghan has relied heavily on the advice of former New Zealand fast bowlers Kerry Walmsley and Dion Nash, while his Auckland teammate Andre Adams has been a big help.
McClenaghan is that rarity in New Zealand in that he can regularly be well over 140km/h. Only CD's injury-prone Adam Milne is in that category among the leading bowlers, so they offer a welcome point of difference from the group of seamers flinging the ball down in the 130-135km/h region.
Spending time with New Zealand bowling coach Shane Bond has proved beneficial. The main discussion has been on his runup.
"I use a lot of energy before I get to the crease.
"Sometimes it clicks and comes out quick; sometimes the body's not feeling great, but I'm trying to get all the energy going to the target and work from there."
His time in South Africa has produced lessons to absorb.
"Back home you can almost get away with bowling one area to all the batsmen. Over here the guys are so good and strong in certain areas that you have to have a plan.
"Like [Hashim] Amla. You can't get on his hip but you can't give him too much width, so you learn to bowl certain balls and lengths to different players.
"There's not just one generic area you can get away with. There's not much margin for error."
McClenaghan, who has a Bachelor of Commerce in marketing and accounting, and has done part-time modelling, is 26 and has good years in front of him.
With others in the early to mid-twenties, this is an interesting time on the seam bowling front.
Who will come through; who might fall away?
The World Cup is two years away. New Zealand and Australia are hosting it. McClenaghan hasn't given it a thought, but if he needs an incentive that would do.
"That's thinking a little far ahead. I think you'll find people like Boulty (Trent Boult, 23) and Dougie (Bracewell, 22) are still filling into their bodies so these guys are going to get quicker as well.
"But by the time we get to the World Cup we are going to have an incredibly solid bowling lineup."
Which he'd like to be part of, but for now it's the next week that matters, starting tonight. Do well and try and put his name in the mix for the next assignment.
The last fortnight has been desperately poor for New Zealand, after being crushed in both tests, following the 1-2 T20 series loss.
McClenaghan's mind is on the immediate task at hand: "Let's try and walk away from South Africa with a series win".
He'll be vying with experienced Kyle Mills, Boult, and fellow left-armer Neil Wagner for the frontline seam positions in the ODI series.
But certainly a chance is beckoning.

The teams
South Africa v New Zealand
First ODI, Paarl, starting 9.30 tonight
South Africa: AB de Villiers (c), Graeme Smith, Hashim Amla, Faf du Plessis, Colin Ingram, Farhaan Berhardien, Robin Peterson, Ryan McLaren, Dale Steyn, Rory Kleinveldt, Morne Morkel, Quentin e Kock, Aaron Phangiso, Lonwabo Tsotsobe.
New Zealand: Brendon McCullum (c), Rob Nicol, Martin Guptill, Kane Williamson, BJ Watling, James Franklin, Colin Munro, Grant Elliott, Jimmy Neesham, Nathan McCullum, Ronnie Hira, Neil Wagner, Kyle Mills, Trent Boult, Mitchell McClenaghan.
• Of the 55 ODIs between the countries, New Zealand have won 18 and lost 33 and there have been four no results.
• South Africa have won 14 of the 18 clashes in their own country. New Zealand's only wins were at Johannesburg in the World Cup of 2003, and in Port Elizabeth in 2007.
• South Africa won the three most recent contests, in New Zealand last summer.