Olympian has long-distance events in Auckland, Taupo and Panama in his sights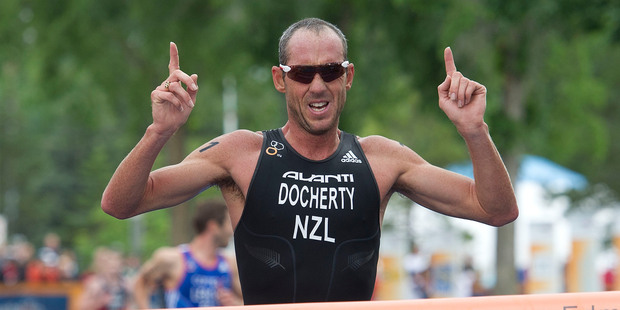 Bevan Docherty is beginning the first full year of his long-distance career in style, with a starting spot in tomorrow's inaugural Ironman 70.3 Auckland event, a return to Panama to defend his title, and a first full Ironman at his home town of Taupo.
All three races will be significant for different reasons.
Tomorrow's 1.9km swim, 90km bike and 21.1km run event, which has attracted a strong field of international athletes and New Zealanders such as Docherty, Cameron Brown and Terenzo Bozzone, will see competitors cycling over the Harbour Bridge for the first time.
The race, which is also the Asia Pacific Championships, will be an early-season test for Docherty, who last competed in Auckland at the ITU World Championship race in October.
Next on his schedule is the Ironman 70.3 Panama, a race which he won in dramatic circumstances last year when beating Lance Armstrong into second.
It was only the second time Docherty had raced over the distance, with Armstrong less than impressed with the result.
The Taupo race in March also promises to be a special one for Docherty, a double Olympic triathlon medallist, who decided to call time on the shorter distance racing last year. He finished 12th at London in his final Olympics after winning bronze in Beijing and silver at Athens.
The 35-year-old, who arrived in Auckland from his California base only on Thursday, said his training hadn't differed too much from past years despite the increase in distance.
"There is a little more endurance and a little less intensity but not a heck of a lot, especially for a half Ironman. They say a half Ironman is more similar to an Olympic distance than a full Ironman so I haven't changed too much.
"It's been coming together pretty good," he said of his training and form. "No complaints, no excuses, so we'll see how it goes in the weekend. It's the first race of the season so there's always that uncertainty."
Docherty's win in Panama's heat, in which he passed Armstrong in the final stages of the run, didn't go down well with the disgraced former cyclist, who brushed past the New Zealander on the finish line without acknowledging him.
"He's a special guy. I think he really wanted to win the race and was a bit gutted that I beat him."
Docherty added: "I always knew he was on drugs. It's no surprise to me. I can't help but think there's more to [the confession to Oprah Winfrey] than being honest and regretful. I think he's getting paid a hell of a lot. I think he should dig a hole and crawl into it and disappear."
Docherty has said his ultimate aim is to compete in the World Championships in Hawaii, with Taupo the first step in that long-term goal.
Docherty, who recently changed bike sponsors from Avanti to Specialized, said he made a comfortable living, but acknowledged there were easier ways to make a crust.
"If you work hard then it will pay off. It's like anything, if you're successful you'll make a decent living. It is hard work, I wouldn't recommend it to everyone, you have to make a lot of sacrifices, there are highs and lows, but I still enjoy the sport.
"I've always wanted to race long course. I've only got a limited time in the sport and it was just good timing. I personally think you can only focus on one and last year was a good time to make the change. The older you get the slower you get but you're more suited to the longer racing."
- APNZ