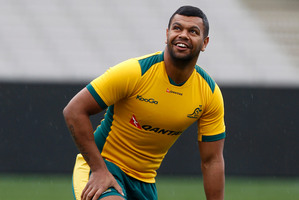 Wallabies five-eighths Kurtley Beale, 24, says a stint in league might be in his future following a cross-code training session yesterday with NRL premiers the Melbourne Storm.
The Rebels Super Rugby star hit the training paddock for the first time since late last year and he sweated it out in a two-hour session.
The Storm are renowned for their tortuous pre-season campaigns but the Rebels were able to keep pace.
Admitting he was a huge league fan, Beale said he wanted to try his hand in the 13-man game.
"It's always lingering in the back of my mind," the 24-year-old said. "I'm a massive fan of rugby league and I played it all my junior career and I'm always switching channels to watch it on the weekend."
His focus was on a big year for the Rebels and the Wallabies, with the Lions in Australia in June/July.
- AAP