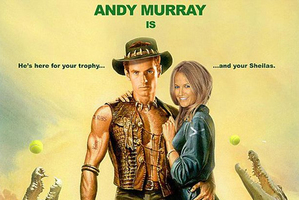 Scheduling conflict
While the Discovery Channel features the Oprah Winfrey and Lance Armstrong interview at 3pm today, on the next channel up, Crime and Investigation, a show called Cheaters will be playing.
Dog ate my passport
Cardiff Blues first-five Jason Tovey had to sit out his side's Heineken Cup match against French side Toulon last weekend after his dog ate his passport.
The 23-year-old was refused passage out of the UK after presenting a badly damaged passport. The wrecked document had bite marks, dog-eared corners and saliva stains, all courtesy of his Labrador puppy Koda.
Tovey tried to arrange an emergency passport but it did not arrive before the team left for France. The replacement arrived a couple of hours after the rest of the squad had left for Toulon, but under club rules he wasn't allowed to catch up with his teammates.
A Cardiff Blues spokesman told the BBC News Wales: "Jason rang to say what happened - he's in the doghouse."
Prize that got away
A Guernsey man has been ordered to do 100 hours of community work after stealing a bass from a local aquarium to claim as a winning catch in a fishing competition.
Matthew Clark stole the bass, weighing 6kg, from the Guernsey Aquarium where the fish had lived for more than 15 years. He entered it into the Bailiwick Bass Club open competition and won the £800 ($1520) first prize.
But a fellow competitor recognised the fish from a recent trip to the aquarium and alerted staff, who realised the bass was missing and told the police.
In court, Clark admitted breaking into the aquarium and killing Guernsey's most famous fish.
No Cup Is Safe
Nike celebrated the signing of new client Rory McIlroy by releasing an ad featuring golf's current number one battling against the former world's best, Tiger Woods, in a quirky driving contest.
The two Nike stars stand on a driving range trying to one-up each other with trick shots. The YouTube video titled "No Cup Is Safe" has attracted more than 1.5 million views.
"Someone wants the play," Tiger says after McIlroy sinks a hole-in-one.
"Just trying to keep up with the old guy," the Northern Irishman replies.
"Dude is that your real hair?" Woods quips in return.
However it's been revealed that because of their busy schedules the duo didn't shoot the commercial at the same time.
Winding up the ref
A Sunday league footballer in England might go down in history as receiving the strangest caution after being handed a yellow card for farting. AFC GOP player Levi Foster broke wind while the referee was checking his boots before the start of the match. The disgusted official threatened to send Foster off before deciding on a yellow. Levi, who admitted to having a curry the night before, went on to earn man-of-the-match honours as his side beat rivals Apsley House 5-0, the Mirror reports.
Latest dance craze
Move over Gangnam Style. Here's The Jeets.
To the tune of Chin Music, by Dale and the Crushers...
1. Put your right foot back
2. Put your left foot back
3. Put your right foot further back
4. Walk to the pavilion
5. Change undies
Stat of the week
It took striker Fernando Torres 25 games to score three times for Chelsea. New signing Demba Ba did it in four.
Newsflash of the week
"Report: Armstrong used rugs", courtesy of Canada's CBC News.
They said it
I won't be watching Oprah on Thursday. I'll watch Jeremy Kyle in the morning though - that's a far better programme.
Sir Bradley Wiggins decides to give a miss to Lance Armstrong's first public confession to doping
The players will need counselling in some cases and they'll need serious coaching by some serious people who understand what is required when you're playing fast bowling.
Former Black Caps coach David Trist on the side's poor run of form.
Laziness has got the better of me. Even though I try very hard to overcome laziness, I have a tough time succeeding. This is the truth, no point lying.
Lazy Bangladesh batsman Aftab Ahmed is at least honest
I have not been in Munich. I was in Frankfurt on a pleasure steamer.
Pep Guardiola's agent, Josep Maria Orobitg, denies rumours he was in Munich to discuss a deal with Bayern. Guardiola was named coach days later.
Stars are always booed so I'm a star.
Fifa president Sepp Blatter on why he was booed during the London Olympics
I tried to write, Aussie, Aussie. The people either didn't see it or understand my writing. Maybe I misspelled it.
Defending champion Novak Djokovic's attempt to gain more local support failed in Melbourne.
Walters is begging to take it, but they won't let him.
Sky Sports commentator Paul Merson pokes fun at Stoke's Jonathan Walters, claiming he wants to take Chelsea's penalty after scoring two own goals.