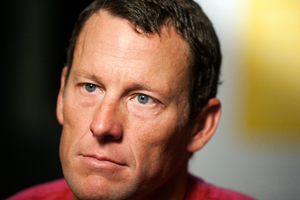 Working in a bike shop in the unlikely location of Upper Hutt is a man who was one of the first people to speak out about Lance Armstrong's doping.
He doesn't care for professional cycling any more, speaks with an accent that verifies his American roots and clearly knows his way around a bike if you listen to him dealing with a potential customer.
The man's name is Mike Anderson and he was hired by Armstrong in 2002 to be his personal assistant and bike mechanic.
The pair were close and a former wife of Armstrong even dubbed Anderson 'Husband Number Two'.
But in 2004 Anderson allegedly found a stash of steroids in a bathroom cabinet while Armstrong was training in Girona in Spain and the relationship between the pair began to fall apart, the Daily Mail reported.
After receiving a large bonus that Anderson took to be 'hush money', he refused to sign a confidentiality agreement surrounding his work with Armstrong and was eventually pushed out of his home town and fled to New Zealand where he now lives with his wife and two children, he told the Daily Mail in an interview.
Armstrong is widely expected to confess that he used performance-enhancing drugs during his career in an interview with Oprah Winfrey that is scheduled to air in New Zealand tomorrow afternoon.
Anderson said he would rather see Armstrong spill his confession to a judge as opposed to a talkshow host.
"Frankly I hope he goes to jail. He introduced a sort of corruption to cycling's governing body that is very American: loads of money and PR," Anderson told the Daily Mail.
"When it comes to Lance, for a lot of people it's been about staying on message whether it's true or not. He's inundated the media for years to control the public's perception of him.
"He should have his day in court. He's committed perjury. He's weasled out of allegations for years. He should be taken down and I hope he takes a lot of other people with him."
Anderson's disdain for Armstrong is evident and he referred to the former seven-time Tour de France winner as a "douchebag" when speaking to APNZ today, and said he can't wait for the scandal surrounding him to be over.
Having spent all day today fielding further requests for interviews from around the world, Anderson said he would rather his phone rang with people wanting to buy bikes from him than to dig up old ghosts.
A blog post on Anderson's bike shop's website blog.thebikehutt.co.nz from last month mentioned that he stocked David Walsh's book Seven Deadly Sins: My Pursuit of Lance Armstrong.
The post is accompanied by the following: "Come join us celebrate the end of the year, the end of a sordid era in professional road cycling, and the closing of a chapter in my own personal history with the NZ release of David Walsh's new book about the biggest fraud in sporting history, the guy who temporarily held seven Tour de France titles, Mr Lance Gunderson Armstrong. Get your copy of Seven Deadly Sins first at the shop on Friday 14 December from 9 to 6. We'll be serving up glasses of I-told-you-so brew all day. Hell, let's just celebrate fair play and human decency!"
Given Anderson's contempt for the ex-Olympian there may be one former friend who won't tune in to watch Armstrong confess his sins to Oprah tomorrow.
- APNZ