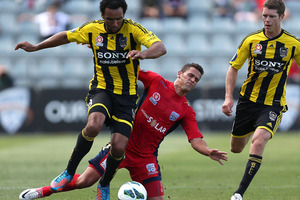 Paul Ifill shook off the rust during a 30-minute cameo for the Wellington Phoenix A side against YoungHeart Manawatu in Palmerston North last night and declared himself ready to return to the A-League.
The talented midfielder has been out of action for the past month as he recovered from surgery on his right ankle following the Phoenix's 3-1 loss to Adelaide United on December 16 - a game in which Ifill was the subject of racial abuse.
As the Phoenix languish in dead last on the A-League ladder they are in need of some serious inspiration and Ifill got through his return to the pitch without bother tonight, although the Phoenix A side lost 3-1 to YoungHeart in the friendly encounter.
Ifill started the game, which had rolling substitutes, and he was pulled as the clock ticked past the half hour mark after an energetic stint on the paddock.
The 33-year-old had one clear opportunity on goal, which he shot weakly at YoungHeart custodian Matt Borren, but showed flickers of what he can do when he is at his best.
Phoenix coach Ricki Herbert was on hand to watch the game, which also saw recent recruit Ian Hogg start the match at left back as he looked to put pressure on the under-performing Tony Lochhead.
After the game Ifill said he was keen to play for the first team as a super-sub against Sydney FC across the Tasman on Saturday night but acknowledged it wasn't up to him.
"You'd have to ask the management," Ifill said of his selection prospects. "As far as I'm concerned I'm ready so in terms of match fitness obviously I'm not going to be there but if [Herbert] needs me off the bench I'll come ready."
Ifill laughed off suggestions that he would be the saviour for the Phoenix's struggling campaign as they search for their fourth-consecutive berth in the playoffs.
"I don't know about that," he smiled. "I think there's plenty of things to work on. I don't think it's going to make a massive difference with me coming back off the bench. Once I'm back starting it might be a little bit different but if I can come back and make some sort of impact then great."
Considering less than 200 people turned up to tonight's game at Memorial Park there was no shortage of entertainment and quality footballers on show.
Phoenix first team squad members Glen Moss, Manny Muscat, Cameron Lindsay, Alex Smith, Benjamin Totori, Jimmy Downey and Michael Boxall all started for the reserve side as well as Ifill and Hogg.
Hogg, who recently joined the Phoenix from the Portland Timbers, looked off the pace as he struggled with his passing game, while he was also caught out defensively when YoungHeart scored their first goal through Tom Mosquera.
For the home side, YoungHeart keeper Borren was in sublime form and made a string of fine saves while centre back Kade Schrijvers was impressive on defence.
Herbert will have no doubt cringed slightly when he saw the oft-injured Downey limp off the pitch in the final minutes with what appeared to be a right hamstring problem.
Downey was brought to the club at the start of last season as their potential right back of the future but the 25-year-old has failed to stay out of the doctor's office and has only made seven A-League appearances from the bench during his time in Wellington.
YoungHeart Manawatu 3 (Tom Mosquera 11, Seule Soromon 58, Michael Fraser 73) Wellington Phoenix A 1 (Cameron Lindsay 1) HT: 1-1
- APNZ