Mare appeals as natural miler but co-trainer points to Guiseppina's effort last year in Trentham feature.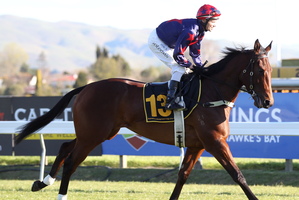 Ken Kelso doesn't have to look far for a confidence boost that Xanadu can win the Telegraph at a distance short of her best on Saturday.
Because right alongside her in the race book will be the last mare to do just that.
Co-trainer Kelso takes Xanadu into the $250,000 group one sprint at Trentham against the hottest sprint field of the year without a run since her fourth in the Spring Classic on October 6.
But he is not worried about fitness after two sparkling gallops between races at Tauranga recently.
"She is as fit as she needs to be because a gallop between races is even better than a trial," said Kelso.
"You can go at the speed you want and get that right work into them without any interruptions.
"So I know she is ready, otherwise I wouldn't be taking her."
But while Xanadu was a mammoth second to Ocean Park in the Makfi Challenge over 1400m at Hastings in September, she still appeals as a more natural miler. And that suits Kelso just fine heading into Saturday. "The history of the Telegraph shows it is usually won by a top 1400m-1600m horse and that is what she is.
"It was the same with Guiseppina last year and plenty of others before that. It suits horses who can sit off the speed and run home hard."
That is the scenario Kelso envisages for Xanadu after she drew barrier 13, which is likely to be 11 after the emergencies come out. That put her almost alongside Guiseppina at barrier 13 (after emergencies).
Favourite Burgundy drew well at three, which will force him to stay handy to avoid being banged around in the squeeze up at the famous Trentham dogleg.
Nobody needs reminding of how badly that can go less than Vinny Colgan, who rides Durham Town.
Colgan was knocked over the running rail in this race last season when Durham Town was viciously checked by Atomic Force.
On Saturday the pair have another inside barrier as they share the 58kg topweight with Final Touch.
Safely through Saturday's sprint feature Xanadu will return to weight-for-age racing at Te Rapa next month before Kelso looks at a Sydney campaign.
"I am keen on a few of the mares' races over there, namely the Coolmore Classic and the Queen Of The Turf but I have also thrown in a nomination for the Doncaster as well."
Meanwhile, Kelso's other leading lady, Fix, will remain on the New Zealand Bloodstock Filly of the Year path.
She leads that series and will contest the Sir Tristram at Te Rapa before almost certainly the Oaks at Trentham.
"We are very keen to win the series and I think she will get the Oaks distance, especially after she was able to work at both ends and win over 2000m at Ellerslie last start."