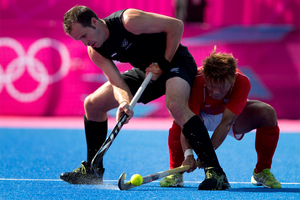 Black Sticks defender Blair Hopping has announced his retirement from international hockey.
The 32-year-old had an international career that spanned 13 years and is one of four players in New Zealand's history to have played more than 250 games. He ends his career having played 264 caps for New Zealand.
He attended two Commonwealth Games (Manchester and Melbourne), three World Cups (Malaysia, Germany and India) and three Olympics (Athens, Beijing and London).
Hopping said although he will miss test hockey and the opportunities it brings, he is looking forward to spending less time on the turf and more time with his young family.
"Although I still love playing test matches, I have been struggling to motivate myself at trainings and for me that was a sign it was time to retire," said Hopping.
"I have to admit it was quite nice coming home after work last night and spending time with my family, rather than rushing to training."
Hopping notes that a highlight was collecting a silver medal at the Manchester Commonwealth Games, in particular the semi-final where New Zealand beat Pakistan for the first time ever.
"The score was 7-1 and it was one of those games when everything just went right, it would be the best game I have ever played in.
"It was also amazing to play at Athens - it is the home of the Olympics, plus it was my first Olympic experience so that made it pretty special."
Hopping said that as the sport becomes more professional, there are increasing opportunities for younger players.
"My message to aspiring players would be to make the most of the opportunities and always enjoy it. It is an awesome thing to represent your country, there is nothing better than pulling on the black shirt."
Hopping has recently taken on a new role as Installations Manager at TigerTurf.