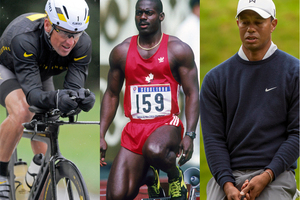 With Lance Armstrong expected to hammer the final nail in his coffin with an admission of doping to Oprah this week, we're asking you where his revelation ranks in our list of the biggest sporting scandals.
World sport is no stranger to scandal. From infidelity and in-fighting, to doping and breaching contracts, sporting history is rife with controversy. But does the calculated, on-going lying and cheating by Lance Armstrong rank No.1?
Read our list of 10 of the best and take part in our poll to find out what truly is the biggest scandal in sport. If you think something better is missing from the list, let us know by voting and putting it in the comments.
Lance Armstrong
The tape began unravelling early in 2012 when the US Anti-Doping Agency filed formal charges against the seven-time Tour de France winner. The world was divided over whether cycling's favourite son was guilty, but as more and more ex-teammates, friends and confidants came out of the woodwork to testify, the scales tipped against him.
Sponsors began to drop him, he officially stepped down from his cancer charity Livestrong, and the whole saga culminated in the UCI upholding USADA's verdict, stripping Armstrong of all seven of his Tour de France titles and banning him from the sport for life.
Armstrong continued to plead his innocence until yesterday, where it was reported that he admitted to doping in an interview with Oprah Winfrey which will be screened on Friday (NZT).
Tiger Woods
While Tiger Woods' actions were not illegal, the amount of media exposure and coverage that was given to this scandal made it seem like they were.
Tiger Woods was the best golfer in the world and arguably of all time. He represented everything that was good about sports and was a role model for many people.
That all came crashing down when, in November of 2009, Woods crashed his SUV leaving his house at 2:30 in the morning.
Stories and claims began rapidly coming out about Tiger Woods' affairs, and Woods admitted to having "120 affairs." His actions led to a divorce between Woods and his wife Elin Nordegren and a divorce between Woods and many of his sponsors.
Woods is currently trying to rebuild his image, and finding success again in the sport of golf.
Chicago White Sox
The biggie. The White Sox were warm favourites to win the baseball's World Series against the Cincinnati Reds in 1919. But they were an unhappy bunch, underpaid by tightfisted owner Charles Comiskey and under-valued.
So when Arnold Rothstein - New York gambler, gangster and bootlegger known as The Fixer, Mr Bankroll, The Man Uptown and The Brain - made contact and suggested money change hands in return for the right results, the game was on. The Sox lost 5-3 but eight players, including the legendary "Shoeless" Joe Jackson, were later banned for life, and the team henceforth became known as the Black Sox.
Tonya Harding/Nancy Kerrigan
"Skategate" involved American rival ice skaters vying for the top spot at the 1994 US championships and also had the good girl/bad girl element in the mix. Harding's ex-husband Jeff Gillooly hired a thug named Shane Stant to club Kerrigan on the knee at a practice session, forcing her out. Harding won the event.
Moves to boot Harding off the Olympic team that year failed and she finished eighth at Lillehammer, Norway. Kerrigan was second. Gillooly then accepted a plea bargain in exchange for dobbing Harding in. She pleaded guilty to hindering the investigation and copped three years' probation, 500 hours' community service and a US$160,000 ($241,000) fine.
Later banned for life, Harding had a brief career as a boxer and appeared in a porn video. She was only the second woman to perform the Everest of figure skating, the triple axel jump.
Ben Johnson
If you saw the race, dubbed the dirtiest 100m Olympic final ever - five of the eight finalists subsequently failing drug tests at various stages - there can be no doubt the muscular Canadian was pumped to his bulging eyeballs at Seoul in 1988. Johnson clocked a staggering 9.79s but was loaded with an anabolic steroid.
The gold went to Carl Lewis, and there's a graphic image as Johnson is about to breast the tape. In the background Lewis is glancing across with a classic 'What the ... !' look on his face.
East German doping
In the space of four years, a country of fewer than 17 million people doubled its Olympic gold medal tally to 40. How? Buckets of drugs dispensed under state supervision and sponsorship. Suspicions were confirmed after the fall of the Berlin Wall as athletes - led to believe they were taking vitamins - showed up with liver cancer, hormonal and organ damage and infertility.
In the 1970s and 1980s, East Germany rivalled the United States and the Soviet Union in medal success. They were strong in athletics and swimming in particular, where the likes of Cornelia Ender and Barbara Krause were dominant. Ender won four gold and four silver medals at the 1972 and 1976 Olympics, later revealing her injections began at 13.
Another, Carola Nitschke, was 13 when she began getting testosterone jabs. In 1998, she became the first doped athlete to return her medals and ask that her name be removed from the record books. A German court found the East German sports boss Manfred Ewald and his medical director, Manfred Hoeppner, culpable for "systematic and overall doping in [East German] competitive sports" and gave them wet bus ticket jail sentences.
Hansie Cronje
What a shock, to discover that the tough cricketer who led South Africa out of the international wilderness was on the take. Captain Cronje wasn't even very good at fixing games - his co-conspirators sometimes ignored the dodgy game plan cooked up by Indian betting crooks. Phone intercepts helped nail this fraudster, although his reputation survived remarkably well in South Africa, considering the betrayal. He was banned for life in 2000, but this turned into a short sentence when Cronje died in a plane crash two years later.
OJ Simpson
The most infamous scandal, by far, in sports history had very little to do with sports itself, apart from the fact that a very known former athlete was heavily involved.
It rocked the sports world in every dimension and had the biggest effect on the American people of any other news in sports.
In 1994, Simpson was accused of killing his wife and another man, and what followed was too crazy for even theaters to come up with.
On live TV, Simpson drove away from the cops for an inordinate amount of time in one of the most insane moments in television history.
No one can run away forever, and once O.J. was caught, it was declared he would go to federal court. There, after nine months of trial, Simpson, in one of the more notorious court rulings in recent history, was found not guilty. This is after numerous DNA samples had made it seemingly evident that he was at fault, as well as holes in his story.
There are few people in America who would deny that he was guilty - yet he was found not guilty in a moment of disbelief for audiences everywhere.
Mike Tyson
Over the course of Mike Tyson's career, it was the unpredictable and shocking that became the most expected stories. In his 1997 rematch with Evander Holyfield, Tyson's once storied reputation sunk to an all-time low. Late in the third round, Tyson bit Holyfield on his right ear, removing a chunk and spitting it out. Amazingly Iron Mike wasn't disqualified, merely deducted points. But when the fight resumed he dealt the same treatment to Holyfield's left ear and the fight was over. What ensued was a riot that stretched from the ring, right into the dismayed crowd.
Sonny Bill Williams
The NRL lost one of its most marketable stars when Sonny Bill Williams walked out on the code following a pay dispute and a bust-up with his then-Bulldogs coach Steve Folkes. "Hopefully some good can come out of what I've done and it wakes everybody up and they realise that something needs to be done," said Williams, who believed he was taking a stand against poor wages for rugby league players.
Notable omissions:
Rosie Ruiz - Declared the winner in the female category for the 84th Boston Marathon in 1980, only to have her title stripped after it was discovered that she had not run the entire course.
Dora Ratjen - The German high-jumper who competed as a women in the 1936 Olympics, but was later discovered to be a man.
'Boris the cheat' - A member of the Soviet Union's modern pentathlon team in the 1976 Summer Olympics, infamous for being disqualified for cheating during fencing.
Juventus and the Itallian football scandal - Juventus became one of the five clubs linked to a Serie A match fixing scandal, the result of which saw the club relegated to Serie B for the first time in its history.
-nzherald.co.nz (Additional reporting by Chris Rattue and David Leggat).