The star trotter has been beaten twice by Stig over the holiday period, prompting an intensive vet test.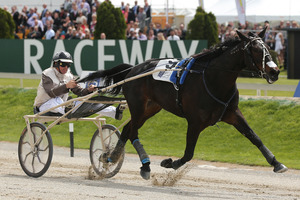 Champion Kiwi trotter I Can Doosit's Australian campaign is back on after an extensive veterinary examination failed to find too much wrong with him. And that will mean he is on a plane to Melbourne today.
I Can Doosit left trainer Mark Purdon scratching his head when he was beaten twice by Stig over the holiday period, trotting roughly or even pacing on one occasion.
That prompted Purdon to send him for scintigraphy at a Waikato clinic, where dye is passed through the horse's body to highlight problem areas.
Purdon says the results suggested wear and tear in the fetlock joints but nothing overly serious.
"That was the initial diagnosis but I will get a more detailed report later," said Purdon, who is campaigning horses in Victoria.
"But it sounds like he doesn't have any major issues so we will press ahead with his racing campaign and monitor his body as best we can."
While I Can Doosit will fly to Melbourne today Purdon says he will definitely miss next week's Australasian Trotting Champs.
"He might start in a free-for-all trot at Melton on February 2.
"But the main reason he is coming over is so I can work with him to get him ready for the big races at Menangle and Melton in March."
Stablemate Escapee, who was a brilliant winner over Australia's best trotters at Bendigo on Saturday night, will also miss the Australasian Trotting Champs and be saved for mobile and/or shorter distance races.
Meanwhile, Purdon's exceptional four-year-old Smolda is also on the plane to Melbourne after a satisfying hitout at the Alexandra Park trials yesterday.
Forced to start against greatly inferior opponents, he was allowed to start a few lengths behind them and ran on well for third.
"He was timed over his last 800m in 55.9 seconds which was all we needed from him," said Purdon's northern stable foreman Logan Hollis.
Smolda was an expensive failure in the Flying Mile at Cambridge two weeks ago and was found to be suffering from a virus.
While he heads to Victoria he may not actually race there, instead prepping for Sydney.
"He will come to Victoria but may not race here. I might just get him ready here before taking him to Sydney for a heat of the Chariots of Fire," said Purdon.
Purdon's open class pacers Highview Tommy and Auckland Reactor head to Ballarat next week.
•Champion mare Bettor Cover Lover has drawn perfectly at barrier three in Friday night's $40,000 Mares Championship at Addington.
She hasn't raced since winning the group one Queen of Hearts at Alexandra Park last month, with co-trainer Brent Mangos opting to keep her to mares' races over the summer.
That will culminate in the A$200,000 Chariots of Fire in Sydney on March 3.
But while Bettor Cover Lover will be a red hot favourite on Friday night she is likely to have the last horse to beat her, Pembrook's Delight, drawn to get the trail on her.
That was the exact scenario when Pembrook's Delight used the passing lane to down Bettor Cover Lover in the Harness Jewels on June 2.
Exam passed
*I Can Doosit will head to Australia today.
*An intensive vet examination of the champion trotter showed no major problems.
*His stablemate Smolda will also make the trip after trialling at Alexandra Park yesterday.
*Glamour mare Bettor Cover Lover has drawn perfectly in the main race at Addington on Friday.