The fast bowler with a wicked outswing has bagged 58 wickets at an astonishing 10.11 apiece in 10 games against New Zealand.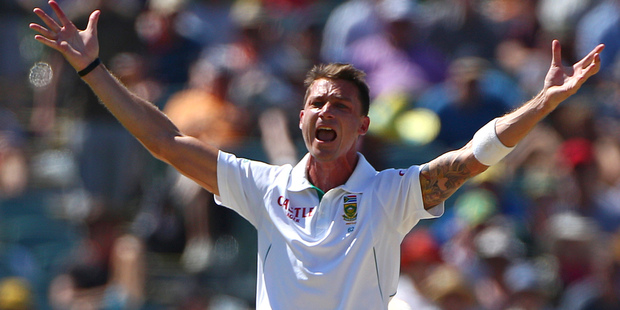 Graeme Smith is a lucky man in many respects. Captain of the world's best team, heading for his 100th test in charge when Pakistan arrive in Johannesburg for the February 1 start of the first of their three tests, and he's got a peach of a fast bowling operation to oversee.
Morne Morkel, Vernon Philander and Rory Kleinveldt are a handful, and they're headed by the world's No 1-ranked bowler in Dale Steyn.
In 62 tests, Steyn has taken 312 wickets at 23.28. Against New Zealand in 10 games he's bagged 58 wickets at an astonishing 10.11 apiece. He won man of the match in the innings and 193-run win over New Zealand at St George's Park yesterday.
Since the start of the series against England in mid-last year, Steyn has taken 40 wickets in eight tests.
He has Allan Donald's 330 wickets in sight, which leaves just Makhaya Ntini's 390 and Shaun Pollock's 421 ahead of him among South African bowlers.
He's 28, in his prime so don't bet against him hauling Pollock in before he calls time.
New Zealand really had no answer to him. His delivery to dismiss New Zealand's best batsman in Port Elizabeth, BJ Watling, was a terrific ball which clipped the outside of Watling's off stump.
"I just try to run in and bowl quick," Steyn said.
"I don't really pick and choose who I want to bowl quick to. Sometimes you are up for it; sometimes the body doesn't agree.
"I was fortunate enough in this game that the body said 'yes'."
His five for 17 in the first innings was the 19th time he's taken five or more wickets in a test innings. Does he recall a day when he felt he simply could not bowl any better?
Two occasions came to mind; against the West Indies in Trinidad, and India in Nagpur, both three years ago. "I walked off the field and thought 'I couldn't bowl better'," he said of the West Indian test.
"Then in Nagpur I picked up seven and got the ball to swing both ways that day on a pretty flat deck."
He took 10 wickets against Australia in Melbourne, but the others stand out above that match.
"When you're playing in places like the West Indies and India, and there's not a lot to offer, it's more memorable."
Steyn has it all, smooth approach, strong delivery, a regular 143-145km/h speed, masterly control over the ball, devastating outswing and the requisite mean streak.
Smith has the highest praise for the leader of his pace pack.
"Once a batter shows him something, he has the wonderful ability to really step up and make it count," Smith said.
"He has a great ability to drive the bus through the wall if the batter gives him a sniff. He has that killer instinct, which is great to have. He sets the tone for all of us to follow."