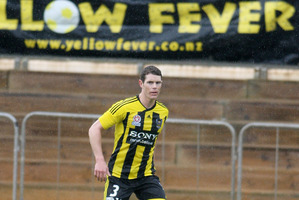 Tony Lochhead's iron-clad grip on the starting left back role for the Wellington Phoenix is under serious threat.
The All White is the club's most capped player with 123 A-League appearances and he has logged 10,992 minutes of playing time since the Phoenix were formed in 2007.
But as his form fluctuates this season his position seems up for grabs after the club recently signed fellow international Ian Hogg.
Lochhead's delivery into the box was again inconsistent yesterday as the Phoenix were beaten 2-0 by the Western Sydney Wanderers at the Cake Tin and coach Ricki Herbert appeared frustrated at Lochhead's lack of production.
Herbert offered this when he was quizzed about the 30-year-old's form this season: "I think it's been a little disappointing really. I think it's a benchmark, it's a national team player and I think just that quality of delivery in the box has kind of struggled."
Hogg is likely to get an opportunity to impress the Phoenix coaching staff when he plays for their reserve side against YoungHeart Manawatu in Palmerston North on Wednesday night.
The 23-year-old was added to the Phoenix roster two weeks ago as a replacement for Mirjan Pavlovic after being released by US Major League Soccer outfit the Portland Timbers without making a first-team appearance.
Hogg has played four times for the All Whites and can be deployed as a midfielder but is predominantly a defender and is eligible for selection from this weekend when the Phoenix meet Sydney FC across the Tasman on Saturday.
"We were quite open to say that we've brought Ian to the club. [In] the three months of investment we are going to have to see if he's good enough in the legs," Herbert said.
"So there definitely will be a chance for him. Whether it's Sydney or back at home [against Newcastle on January 27] or whatever, but he'll definitely get some game time."
The Phoenix rely heavily on their ability to cross the ball as they like to spread their attack down the flanks, pressuring teams with plenty of crosses and that means players who are stationed out wide have to be accurate in their delivery into the box.
Lochhead is a supremely fit player but has struggled this season going forward and is yet to register a goal assist, which is a contrast to last summer where he logged four.
He is a favourite of Herbert's at club and national level but as the Phoenix sit at the bottom of the A-League ladder after 16 rounds - with five losses from their past seven games - something has to give.
The Phoenix are only four points adrift from the Newcastle Jets, who occupy fifth place on the table, but they need to find some momentum if they want to push for a spot in the playoffs.
Meanwhile, Phoenix second-string goalkeeper Glen Moss is also expected to return from a hernia operation when he takes the paddock for the reserve side in Palmerston North on Wednesday but all eyes will likely be on another player.
Paul Ifill is pencilled in to play around 30 minutes from the bench for the reserve team as he continues his recovery from an ankle injury.
After the loss to Western Sydney yesterday, Herbert hinted that Ifill could be up to speed for a return to the first team when the Phoenix host Newcastle in just under two weeks.
- APNZ