Despite all his hard work, the big scores continue to elude New Zealand captain.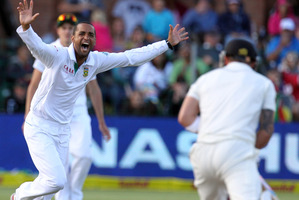 Brendon McCullum's test series as a batsman ended at St George's Park yesterday in a familiar and potentially worrying manner.
McCullum fell lbw to South Africa's left arm spinner Robin Peterson for 11. It completed McCullum's series with 82 runs at 20.5 from his four innings.
It was also the third successive time McCullum had fallen to Peterson, a steady but hardly world-beating spin bowler.
In his 119 completed test innings in 72 tests, McCullum has been dismissed by a left arm spinner 26 times. It is a weakness which won't have gone unnoticed by New Zealand's next visitors.
Why? Because aside from the world's No 1 bowler Dale Steyn, the other one to have claimed McCullum's wicket more than anyone else is England's left arm spinner Monty Panesar.
And England arrive for a full tour next month with Panesar in the party, even if he could be a marginal selection as second spinner behind Graeme Swann in seam-friendly NZ.
Two of those Peterson dismissals were lbw - in the second innings of the first test at Cape Town and yesterday. For the first, McCullum pushed forward and was struck on the front pad in line.
The second appeared to hit him on the back leg as he again went forward.
In the first innings at Port Elizabeth, having dug in against the formidable pace attack for 97 minutes, his eyes may have lit up when Peterson was handed the ball.
To his second delivery McCullum shaped for a big off drive and touched a catch to first slip. His body language suggested he knew he'd blown it after doing all the hard work.
Since New Zealand went to India in August, McCullum has played 12 test innings and a left arm spinner has got him out seven times. In that period he's scored 289 runs at 23.7
Pragyan Ojha dismissed him in Hyderabad. Rangana Herath removed McCullum three times in two tests; and Peterson has now done the same. While at the crease McCullum has worn the demeanour of a man with the weight of his team on his shoulders.
Over the course of this test, he knuckled down admirably. Over the course of the series, he batted a total of 355 minutes, faced 240 balls and hit 11 of them to the fence.
For that amount of diligence, 82 seems a small reward.
McCullum's natural game is to play his shots; take the attack to the bowlers and try to dominate.
Here, he's clearly felt should he adopt that aggressive approach and it goes wrong, he'll cop another "irresponsible" towelling.
McCullum has also possibly been worried about the strength through the middle order if he departs early.
He has worked hard, got his head down against some hostile pace bowling and won praise from Steyn yesterday.
"McCullum's looked unbelievably difficult to get out, and yet he hasn't made big scores," Steyn said, highlighting the problem which has faced the new captain.
McCullum's conquerors
Left arm spinners to have dismissed Brendon McCullum in tests
6 times: Monty Panesar (England)
3: Pragyan Ojha (India), Rangana Herath (Sri Lanka), Robin Peterson (South Africa)
2: Shakib al Hasan (Bangladesh)
1: Ray Price and Keith Dabengwa (Zimbabwe), Nicky Boje (South Africa), Sanath Jayasuriya (Sri Lanka), Abdur Razzak, Mohammad Rafique (Bangladesh), Ashley Giles (England), Yuvraj Singh (India), Abdur Rehman (Pakistan).