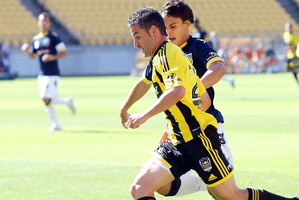 The latest poll does not make good reading for the Wellington Phoenix players, backers and supporters.
Asked which club will make the top six play-offs, the Phoenix received just 2 per cent of the vote - the same as the other far-flung Hyundai A-League club Perth Glory. Melbourne Heart fared little better at 3 per cent with defending champions Brisbane Roar, 7 per cent, rated as the other club least likely to make the cut.
Sunday's home loss to Western Sydney Wanderers in what, at best, was a very ordinary game of football again exposed the Phoenix' deficiencies - at both ends of the park.
In their last six games, the Phoenix have won only once - the dramatic 3-2 come-from-behind effort against Melbourne Heart - and drawn once, a commendable 1-1 effort against league leaders Central Coast.
In those six games the Phoenix have scored just seven goals and only once, in that home game against the Heart, managed to score more than one goal.
The lack of good ball from the midfield to the ever-hungry strikers was evident again on Sunday with far too much ball turned over by a midfield struggling to make any impact.
The Phoenix had a couple of decent long-range attempts - from Stein Huysegems and Vince Lia in the first half - but those were individual efforts from outside the penalty area rather than the result of good midfield build-up.
Jeremy Brockie, clearly the player most likely to score, was starved of possession and often to be found, along with fellow attackers Tyler Boyd and Louis Fenton, lending a hand on defence.
The Phoenix were the only team to lose at home in round 16. Melbourne Victory, in a 1-1 draw with the Mariners, were the only other team to drop points at home.
Coach Ricki Herbert has called for patience as he and his players attempt to answer the call to play a more attacking, all-encompassing game but the fans, who continue to stay away, are calling for a quick fix as their season threatens to completely unravel.
In slumping to the bottom of the table, the Phoenix are propping up the table for the first time since the 2008-09 season when they reached a high of fifth before finishing sixth, of eight.
A season earlier, their first, they spent five weeks at the bottom (and had a high of fourth) before finishing the season in last place.
In the past two seasons the Phoenix have twice (each season) dropped to ninth place but have also spent as many weeks in second place and gone on to make the play-offs.
Now, with all teams above them, the Phoenix face a massive salvage job. But in being just three points behind Perth Glory who hold the last of the six play-off spots, there is some hope for Herbert and the team.