New Zealand's stocks need bolstering, which should start on Thursday when Terror To Love returns to track.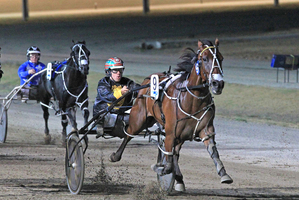 Help is on the way and judging by what happened in Australia on the weekend, New Zealand pacing needs it.
An enthralling weekend started on a low with Gold Ace being pulled out of the Futurity at Cambridge on Friday night and ended with Australia holding the upper hand in the countdown to the Hunter Cup and Interdominions.
The major New Zealand contenders for those two great races who were supposed to further their cause over the weekend didn't, while the big Australian players did.
The shift in momentum started when a quarter crack forced Gold Ace out of his race on Friday night and he will now have a week in the pool before trying to put things back on track in the Alexandra Park Interdominion heat on February 16.
While his big-race chances may not be affected by what happened, the quarter crack is still an inconvenience trainer Steven Reid did not need.
Especially as later on Friday night the Australian favourite for the Interdoms, I'm Themightyquinn, bounced back after two recent defeats to destroy his rivals in the A$400,000 ($504,000) West Australian Cup.
After that win trainer Gary Hall confirmed I'm Themightyquinn will be heading to Sydney to defend his Interdom title on March 3, which had earlier been only 50-50.
So Friday was a points win to the Australian big guns over the Kiwis and Saturday was worse.
Mark Purdon took Auckland Reactor and Highview Tommy to the Bendigo Cup and Reactor was only average in third, Highview Tommy was much worse. He led and faded, while Auckland Reactor made some ground for his placing, with fellow Kiwi Mah Sish a strong second.
But to add insult to injury, the $50,000 race was won by Sushi Sushi, who Purdon trained until a month ago.
The one-time glamour pacer is now back with his Victoria trainers and produced his best performance in a year when he came from last, three-wide to win like a genuine force in the group ones ahead.
While he shone, so too did fellow Victorian pacers Smoken Up and Caribbean Blaster about 10 minutes earlier when they fought out an incredible A$125,000 South Australia Cup.
After a dramatic early move to secure the lead Smoken Up was attacked over an epic last lap by Caribbean Blaster and looked beaten at the 300m before he fought back to win.
Like Sushi Sushi, Smoken Up had been losing fans and got as long as $26 in Interdominion markets but will now bounce back into half those odds. So after a weekend where the Kiwis went backwards and the Aussie stars shone, New Zealand's major pacing stocks need some bolstering, which should start on Thursday.
That is when dual New Zealand Cup winner Terror To Love returns to the track at Invercargill in the Northern Southland Cup.
He looked sharp with a 55.4 second last 800m at the Ashburton trials last Wednesday and still heads many Interdominion markets.
If he wins this week and the Alexandra Park heat on February 16 he will carry huge respect into the Interdom Final.
If he trips up somewhere that respect starts to dissipate and that can be costly in the tactical battle that is major Australian harness races.
Our Hunter Cup and Interdominion team will have a surprise new recruit in Four Starzzz Flash, who has returned to his best since joining the Cran Dalgety stable.
Dalgety will now take him to Ballarat on Friday week and then the Hunter Cup on February 2, a race where he won't have to meet many of the top 10 pacers.
All of a sudden he has become a serious Grand Circuit contender and if a Hunter Cup market was opened tomorrow he would deserve to be in the top five favourites.
While the Aussies hold the upper hand in the pacing battle at present, the major trots looks set to be dominated by the Kiwis once again.
Escapee did the unthinkable by coming from last at the 400m to down Australia's best trotters over 1650m at Bendigo on Saturday night.
When you add I Can Doosit, Stig, Dr Hook, Sovereignty and The Fiery Ginga to New Zealand's team for the massive money Australian trots in March, the Kiwis will leave only scraps for the Aussies.
Oz upper hand
*Australia's best pacers shine on a weekend where New Zealand's go backwards.
*But dual NZ Cup hero Terror To Love returns to racing this Thursday.
*He is still the favourite for the Interdominion Final on March 3.
*Escapee spanks Australia's best trotters at Bendigo.