Trainer says he's learned you don't go into major races or any race for that matter unless your horse is 100 per cent.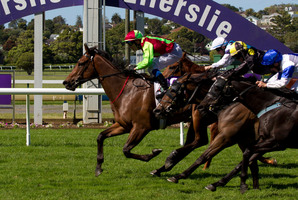 A month ago when Mosse astounded everyone by winning the Concorde at Ellerslie this column told the story that John Bell wasn't gushing like everyone else.
The Waikato horseman with the extraordinary thoroughbred on his hands was taking it one race at a time, because Bell knew from experience that when you get ahead of yourself in horse racing you end up with patches in your jeans.
The pockets fell off Bell's jeans when Mosse failed to make the $200,000 Railway field at Ellerslie.
The knees of the jeans turned to holes on Saturday morning when Bell had to withdraw Mosse from the only other 1200m group one sprint in New Zealand, Trentham's Telegraph this Saturday.
A bruised heel never sounds serious, but in a racehorse it can be very tricky. Bell declared Saturday morning was the cut-off point for decision time and galloped Mosse.
"He changed stride a couple of times. I could have got him there on Saturday 99 per cent - the 1 per cent being the work I couldn't quite get into him - but I learned 40 years ago from one of the great trainers we've seen that you don't go into major races or any race for that matter unless your horse is 100 per cent."
Jim Gibbs was that horseman.
Bell got master farrier Kim Hughes to build special platform shoes to assist Mosse's affected foot and that helped, but finally Bell wasn't prepared to risk the horse or his chances in such a big race.
"With our horses we don't take any risks at all. We always let our horses do the talking."
Bell had been in the process of engaging nine-times Hong Kong champion jockey and friend Douglas Whyte to ride Mosse for the Telegraph.
"I was talking to Gerald Mosse [after whom the horse is named] and I called another mate, Douglas Whyte.
"I asked Douglas what weight he would be able to ride at the time an unbeaten horse was fixed odds favourite for a group one sprint and he said 115 pounds.
"I quickly grabbed the calculator and saw that it was 51kg-something and was in the process of engaging him. Jason [Waddell] did a marvellous job of getting down to the 53.5kg to win the Concorde, but he was stressed doing it and I didn't want to put him through that again.
"Then I heard a whisper that Telegraph weights might be raised 1kg and Jason came back into the frame. We weren't quite sure where we were going, but now it's all history."
Bell says Mosse is a very happy horse.
"I took him to a lovely fresh grass paddock on our new Cambridge property and he walked to one side and introduced himself to the horses in the adjoining paddock then introduced himself to the horses on the other side then mooched to the middle of the paddock and started grazing. He announced he was in town and left it at that."
The $200,000 Waikato Draught Sprint (1400m) at Te Rapa on February 9 would be a logical target, but Bell said "this race has been looked at but we will wait and see how Mosse comes through treatment for the bruising".
Mosse
*New Zealand's star galloper is withdrawn from Trentham's Telegraph.
*A bruised heel has Mosse on the sideline.
*Burgundy is the new Telegraph favourite.