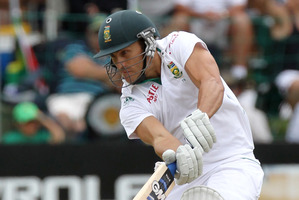 This is a good time to be Faf du Plessis; it's a good time to be a South African batsman.
Set aside their formidable bowling strength; their top six batsmen present a challenge of a different kind to the best of bowling attacks.
Du Plessis scored his second test hundred in his fourth test at St George's Park yesterday to further cement the view that, despite being at 28 a late arrival into the team he is fast becoming a key figure in the batting operation.
His 137 - the century brought up with a six straight after being stranded on 99 for several minutes before lunch and through the break - took his average to 111.25. His scores are 78, 110 not out, 78 not out, 27, 15 and 137. Add in a maiden hundred in his third test for regular opener Dean Elgar, transplanted into the No7 specialist batting spot, and South Africa ground New Zealand out of the game on their way to 525 for eight declared. The pair followed Hashim Amla to three figures in the innings.
"It's nice to average 110 but I understand it's a good time for me and I need to score as many runs as I can because there's going to come a time when you don't score as many runs. I'm in a little bit of good form and just have to make the most of it," du Plessis said.
Du Plessis started his test career with a test-saving marathon unbeaten ton against Australia at Adelaide in November. He appeals as a batsman with considerable character. In that respect he's far from alone in the South African top six.
Captain Graeme Smith, opening partner Alviro Petersen, Amla and the great Jacques Kallis present an imposing top four. Throw in AB de Villiers and du Plessis and bowlers know they've got to be right on the job to succeed.
Their respective test averages are 49.28, 42.05, 51.39, 56.73, 49.27 and 111.25. At the heart of it are world No3 Amla, and Kallis, the game's finest allrounder. "They do give you that consistency, and when they bat for a while and put a decent score on the board you can come in and play your own game," du Plessis said.
"That's very important for a young guy that they don't come in under big pressure.
"Our top four over the last year has been tremendous." David Leggat travelled to South Africa with assistance from ANZ