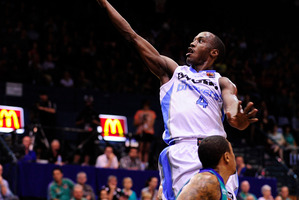 If the Breakers are tough to tackle when Tom Abercrombie is out of form, they are almost unbeatable when the Tall Black plays like he did on Friday night.
Abercrombie has endured a patchy campaign with the two-time defending champions, still hampered by the ankle injury he sustained in last season's playoffs.
The Breakers have got by without his usual influential contributions, but Abercrombie sparked to life against the Townsville Crocs just when his team needed him most.
Seeking to complete a four-game road sweep, the Breakers looked to have run out of steam on the last leg of their holiday jaunt. Townsville took the lead after five minutes, increased their advantage to 15 points by halftime, and took a six-point buffer into the final quarter.
The Crocs still led by three with less than a minute to play, and the Australian NBL leaders looked to be crashing to defeat against the competition stragglers.
Enter Abercrombie.
The 25-year-old swingman drained a three-pointer with 51 seconds left to tie the scores and, after a crucial steal from Cedric Jackson, Abercrombie swished in another long jump shot to give the Breakers their 13th win from 16 games.
"I was feeling good in the fourth quarter and my teammates did a good job of finding me in some spots," said Abercrombie, who finished with 19 points.
"We were getting some good looks and we kept going to it and I was able to knock them down. It's just one of those things - you've got to keep that confidence going throughout the whole game.
"I missed a few but I was wanting to shoot those ones at the end, for sure."
That desire bodes well for the rest of the season as well as the Breakers' chances of securing a three-peat of titles. Jackson may have carried the team at times, and countless other Breakers have chimed in when needed, but the New Zealand side are a different proposition when Abercrombie is in the mood.
He has said his confidence was the last thing to return after off-season surgery but his heroics in Townsville seem to indicate it has arrived.
"I just tried to be aggressive and take the things that were given to me. The shots felt good and I kept taking them."
Those successful shots have seen the Breakers stay ahead of arch-rivals Perth atop the standings and, even with a dozen games left in the regular season, it would take a monumental collapse for the Breakers to fall from the all-important top two.
- APNZ