Wellington side fails in front of own supporters as lean spell continues in A-League.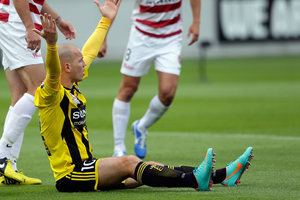 Paul Ifill's impending return to the football pitch can't come quickly enough for the Wellington Phoenix.
After slumping to their fifth defeat in their past seven outings with a 2-0 loss to the Western Sydney Wanderers at Westpac Stadium yesterday, the Phoenix are in need of some inspiration.
Ifill has been on the shelf lately because of ankle surgery and he's expected to play from the bench for the Phoenix reserve side against YoungHeart Manawatu in Palmerston North on Wednesday.
The former Barbados international has been running freely at training and could sneak in to the reserves when the Phoenix host the Newcastle Jets at Westpac Stadium on Sunday, January 27.
"I probably think it'll be a couple of weeks with Paul," Phoenix coach Ricki Herbert said.
"But it's not a bad player to have waiting in the wings to come back."
It will be interesting to see how much life there is left in Ifill's 33-year-old legs given his run of injuries during the past two years, but there's no denying the Phoenix need his attacking prowess. They looked short of ideas against the Wanderers yesterday and Ifill's ability to run at players and beat defenders has been sorely missed in recent weeks.
It's a simple formula but when Ifill plays well the Phoenix play well and Herbert conceded his side weren't good enough against Western Sydney as they now sit firmly near the bottom of the A-League ladder.
"That was a disappointment for me today," Herbert said. "We are not scoring. The chances were there today and we weren't ruthless enough to put the team away and they're a tough side, a hard team to break down, so the chances you get, you've got to take."
The Phoenix showed promise in the opening spell as Stein Huysegems hit the crossbar with a booming left-foot strike, while Vince Lia also had a long-range shot smartly saved by Ante Covic, but outside of that they struggled to create enough.
After absorbing the pressure in the first spell the Wanderers came out in the second stanza and showed the sort of determination that has seen them surprise people in their debut season as the Phoenix failed to string enough passes together.
Western Sydney's persistence finally paid off when Nikolai Topor-Stanley headed in a rare goal in the 72nd minute, and only 10 minutes later, Labinot Haliti doubled the lead for the visitors when he took advantage of a mix-up between Phoenix defender Ben Sigmund and goalkeeper Mark Paston.
Haliti's late tap-in ensured the Wanderers would leave Wellington with three points and Western Sydney coach Tony Popovic said he was happy to knock the Phoenix over.
"It's a difficult place to come," Popovic said. "They're a good side here. I've got a lot of respect for this club and Ricki Herbert because when you're in the playoffs three consecutive years, when I think of the players that they can get here, it's not easy.
"They have good young players and we saw their training ground and it's difficult, it's windy, it's difficult conditions to train and play in. I think they do a great job in getting a good side here."
The Phoenix's next outing comes against Sydney FC across the Tasman on Saturday night.
Wellington 0
Western Sydney 2
- APNZ