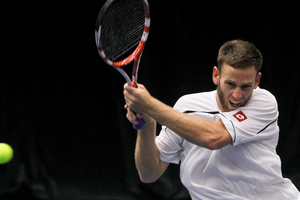 Michael Venus has withdrawn from the Davis Cup team for next month's tie against Lebanon - instead electing to play two Challenger tournaments in Australia.
Hot on the heels of Rubin Statham's messy withdrawal from the squad last week, when he was outspoken in his criticism of Tennis New Zealand, it is a bad look for the sport - but the governing body insists the two incidents are unrelated.
"There is no connection with what Rubin is doing and Mike stressed that to me," Tennis NZ CEO Steve Johns said. "He really wanted to play but in that week there are two Challenger tournaments in Australia which overlap the Davis Cup. He has got no (ATP) points to defend until April so he sees the opportunity to play Challengers close to home and back-to-back as a chance to win some points and give his career a kick-start for 2013."
Venus, 25, is currently ranked 514 after reaching a career high of 274 in July 2011.
"He told us he didn't want it to come across that he was pulling out in relation to the whole Rubin situation - he simply has looked at it and decided it is a great opportunity to kick-start his career in 2013 and give his ranking a good boost. That just tipped him over the line in deciding not to play Davis Cup."
Johns says Venus did things "the right way" in coming to discuss his situation with Tennis NZ and explored every option before eventually deciding to withdraw.
"He looked at a way of entering the tournament and coming back if he didn't get through but we needed the team together on a Monday. Reluctantly, I think, he chose the Challengers."
Whatever the scenario, the future of Davis Cup captain Marcel Vos must be under the spotlight. He has obviously fallen out with Statham, his No1 player and the team performed poorly in 2012.
New Zealand plays Lebanon in Albany on the first weekend in February, in the Asia Oceania Group two tie. They have beaten the Arab nation in all three previous encounters and should win comfortably, given Lebanon does not have a single player ranked in the top 1000.
"We don't want to underplay the opposition but we understand that their only player who has ATP points has withdrawn so potentially they could be coming here with a team of players - none of whom have ATP points," says Johns. "It should be a comfortable tie for us."
A replacement for Venus is expected to be named today.