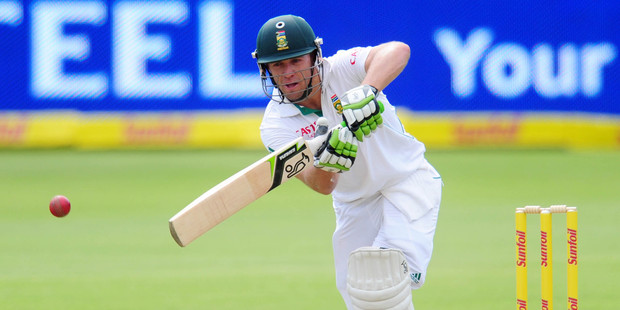 As school reunions go, this was just a touch different. South African batsmen AB de Villiers and Faf du Plessis are old boys of the famous Affies boys' school, the elite Afrikaans academy in Pretoria. So too is New Zealand's transplanted seamer Neil Wagner.
They met up at St George's Park overnight on Friday and there's no question which ones finished the first day of the second test with a smile. The stumps board told the story, the hosts 325 for four, de Villiers made 51, du Plessis got to stumps unbeaten on 69, while left armer Wagner bowled energetically but without luck.
He did, at least, get one wicket to show for his toil, having South African captain Graeme Smith caught down the leg side for 54.
De Villiers and du Plessis are 28; Wagner is 26 and, as is the way at schools the world over, the older boys don't take that much notice of those a couple of years behind.
However, de Villiers spoke warmly of Wagner. Each was determined to win the personal battle.
"It was quite a weird situation," de Villiers said. "I had quite a few memories running through my mind and I just thought 'stick to the basics, because I can't get out to him'," he quipped.
"It would probably have been all over Facebook and would have got back to school. But I'm really proud of what he's achieved."
De Villiers said Wagner had made an impression at the school and in the years after, before he upped sticks and moved to New Zealand in 2008.
"He was always quite skillful at school but two years younger and never as [physically] developed as we were. I missed his last two years at school when he probably developed a lot. He's performed amazingly well. I'm very proud of him."
Wagner acknowledged the curious situation. Growing up, he wanted to play for South Africa. He spent plenty of time in the same dressing rooms as the other two Affies old boys.
"Every ball I bowled to AB, I was very determined to get him out. He got the better of me today but hopefully I'll get another opportunity," Wagner said. He had never played against du Plessis before.
"It is strange. Being friends and all of a sudden moving away and playing against him. It is different but I always felt we were having a battle out there," Wagner said.
When a ball from Trent Boult appeared to glance off du Plessis' gloves down the leg side, New Zealand appealed but didn't seek a referral - most likely a mistake although replays were inconclusive.
Wagner got in and tried to pick up what du Plessis was saying to his batting partner, the remarkable Hashim Amla. If du Plessis had let slip any indication that the ball had brushed his glove, Wagner could have tipped his captain Brendon McCullum's hand.
In the event, du Plessis told Wagner he hadn't touched the ball, capping a tough day for the New Zealanders. They bowled tidily at times, kept a reasonable check on the batsmen but it slipped badly in the final session as 134 runs were added by Amla, de Villiers and du Plessis.
That period shifted the game away from New Zealand, who had hopes of a series-levelling win.
There was no shortage of effort from the bowlers. Wagner, in particular, had no luck. The problem was too many free hits were given away.
Offspinner Jeetan Patel beat the bat more than once as the pitch started taking appreciable turn - a bad sign considering whose batting last in this test unless, of course, New Zealand's batting tumbles again and they follow on.
Amla completed his 19th century in his 67th test - and fourth ton against New Zealand. He has an implacable temperament to go with a decisive drive, a vigorous back-foot punch through the covers and an effectiveness about his leg side play.
Therefore, with the hosts 152 for three and the game well on, it was a pivotal moment when Kane Williamson dropped a sharp chance to his left at gully. Amla was on 48. It was the sort of situation drummed into players that they must grab.
Williamson is a fine fielder and it was an unfortunate miss.
"He's a calm man and we all feed off that," de Villiers said of 29-year-old Amla. "He's a rock for us; he played amazingly well."