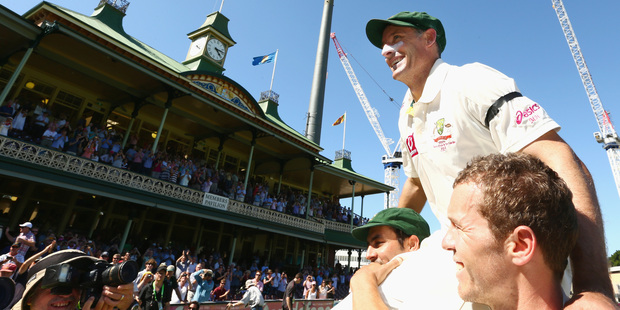 To watch Michael Hussey burst out of the tunnel at the Sydney Cricket Ground last Sunday with the television muted, you would not have detected anything different in his demeanour. Legs flicking back to loosen the quadriceps, a mandatory stretch to keep the groin in working order, a rotation of the bat around the hips and a liberal smear of white zinc across the nose. This was Mr Enthusiasm, Mr Consistency ... yes, even the name the 37-year-old apparently frowns upon, Mr Cricket.
Turn up the TV volume and cacophony ruled. Australian fans are seldom reticent but their lungs were working overtime as a favourite son embarked on his final test innings - they had earlier been baying for a wicket to get him to the crease.
What followed was close to the perfect finish for Hussey; Australia needed 37 runs to win with seven wickets in hand. His 27 not out eased them home and, for such a team man, it seemed appropriate the winning run should come when he scampered for a quick single which his partner Mitchell Johnson had been trying to avoid squeezing behind point.
An odd wave of celebration and melancholy enveloped the ground. Channel Nine television commentator Ian Healy offered his most insightful comment of the summer: "The security blanket is no longer with us." Hussey's wife Amy and children Jasmin, William, Molly and Oscar joined a husband and father, symbolically beyond the boundary.
Since Hussey's test debut aged 30 in 2005 (and a one-day international debut the previous year) he has been endorsed with monikers like The Cricketer's Cricketer and has transcended national rivalries.
To watch Hussey do well meant cricket was doing well because his batting, fielding and attitude were of such quality. New Zealand could do with a Hussey; someone fans universally love.
Hussey played 79 consecutive tests - a testimony to his form and fitness. After his second test, his average dipped below 50 just once, against India in October 2010. He responded with his highest score of 195 in the first drawn Ashes test of 2010-11 when his place was under threat after averaging under 40 in the 2008 and 2009 calendar years. Still, trying to secure a spot by scoring runs and displaying Inspector Gadget tendencies in the field was nothing new. Hussey had to make the most first-class runs of any Australian - 15,313 - to earn his baggy green cap.
A test average of 51.52 and 85 catches plus a swag of those commodities in the limited overs formats probably represents a case where statistics cannot sum up how much he has contributed to the team. Few contemporaries compare as international team standard bearers. England's Andrew Strauss, Sri Lanka's Mahela Jayawardene and South Africa's Hashim Amla are three of a rare, unselfish breed who spring to mind.
Any doubts Hussey's success came by accident were erased last season when he volunteered for a kitbag inspection on camera with Healy. Beyond the usual bats, gloves and padding, Hussey's bag included meticulous rarities such as dental floss for food stuck in a back tooth, a set of scales to weigh his bats after he'd sanded and oiled them; and towels to protect his six covered bats from sweaty pads.
Australia's cricket broadcaster Channel Nine sometimes cops flak for its unapologetic sycophancy recording the national team's feats but they know how to lay down a tribute. They did Hussey proud.
He spoke about going into his Perth backyard as a 10-year-old to emulate Allan Border's 163 against India in the 1985 Boxing Day test.
Home footage followed: a young Hussey spoke to the camera, describing where he liked bowlers to pitch the ball. He then produced a precocious straight drive to show what he would do if they obliged.
It was a charming moment in a charmed career where Hussey seized his chances to become one of Australia's most memorable and loved cricketers.