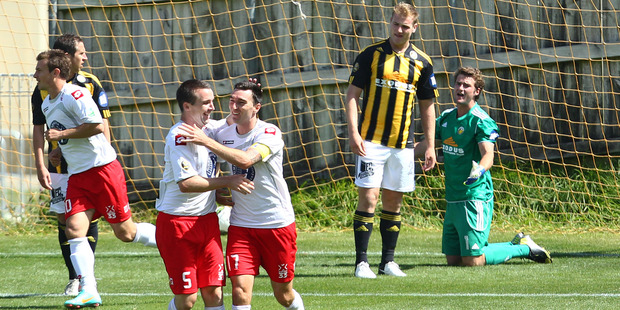 Waitakere United picked up where they left off before the festive season and continued their unbeaten run in the ASB Premiership with a 3-1 win over Team Wellington yesterday.
In their first match since the four-week Christmas break, the defending champions proved too strong in the second spell in the capital, with two Roy Krishna strikes enough to seal the points.
With the win, Waitakere opened up a four-point gap at the top of the table, with nearest rivals Canterbury United and Auckland City meeting today in Christchurch.
Yesterday's match at David Farrington Park was a rematch of last year's final, won 4-1 by Waitakere, but only one side looks likely to make it back to this season's showpiece based on this season's evidence.
The west Aucklanders had won five of six games heading into the encounter, with a draw in the Super City derby against Auckland the only blot on their record.
Wellington, on the other hand, have won just twice and sit only three points from last place in a congested lower half of the table.
Those respective credentials eventually showed yesterday, though that didn't always appear to be the case. After Waitakere defender Brian Shelley headed in an early corner to give his side the lead, a well-struck Luke Rowe volley levelled the scores for the hosts.
That was the way it stayed until the hour mark, when Krishna needed two attempts to beat Scott Basalaj in the Wellington goal.
Fifteen minutes later, the Fijian striker headed in a perfect cross from Ryan de Vries to double his tally and secure the victory.
Wellington 1 (L. Rowe 16) Waitakere 3 (B. Shelley 6, R. Krishna 57, 74). Halftime: 1-1.
ASB Premiership
Team Wellington 1
Waitakere United 3
- APNZ