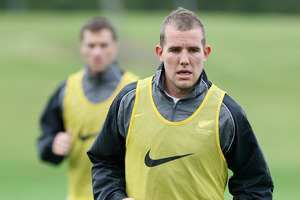 Tim Brown was not everybody's favourite player but the steel he brought to the Wellington Phoenix midfield was unquestionable.
Add in the six goals - including some spectacular efforts - and Brown's contribution was vital and played a big part in their run through to last season's play-offs.
With Brown's retirement, a shock in most quarters, Ricki Herbert lost his go-to midfielder who played both the destroying defensive role and gave the attacking edge any coach wants from his general.
Those goals, often the difference between winning and losing - including the 88th-minute strike in the 1-0 win over Gold Coast and the opening goal of the 3-2 win over Sydney FC in the elimination final - were crucial and the bonus Herbert was looking for.
Brown's departure left a gaping hole. With Dani Sanchez for so long sidelined this season, Herbert relied on Manny Muscat, Vince Lia and Alex Smith (until replaced by Sanchez) to provide the work in the engineroom.
Sadly, at times, that has not been good enough. Until he copped a three-match ban for an errant elbow, Muscat had missed barely a minute of the Hyundai A-League season. While he performed reasonably, he and Lia have not been incisive and have often failed to give the support needed defensively.
Smith is a battler but, like his fellow midfielders, has yet to really show out and does not, unlike Brown, score out of turn.
Sanchez' return has shored up the attacking support, and led to a couple of good goals, but the always-likely strikeforce, led by goal-grabbing Jeremy Brockie, is not getting enough good ball to seriously challenge opposing defences.
In Brockie, Louis Fenton, Tyler Boyd and Benjamin Totori, Herbert has livewire strikers capable of taking the game to the opposition. Belgian Stein Huysegems, early on, profited from good midfield service but his goalscoring has fallen away partially through the lack of good support from the players behind him.
Tomorrow's home game against Western Sydney Wanderers is another of those "must win" battles every team faces if they are to remain a contender. The Phoenix beat the newcomers 1-0 in their December 2 meeting at Westpac Stadium with Brockie's sixth goal of the season the difference.
While the Phoenix have fallen away since that victory, the Wanderers have picked up their game and hauled themselves into contention with now seven wins from 15 games and fourth place, just three points back from third-placed Melbourne Victory.
Under head coach Tony Popovic, the Sydneysiders return to Wellington as one of the form teams. They beat the Victory 2-1 on New Year's Day before going down 2-0 to leaders Central Coast Mariners.
With Boyd back from his one-match suspension, Herbert will consider changes, with the youngster likely to step back into the attack alongside Fenton and Brockie and Huysegems likely to join Totori on the bench.

A-League
Wellington Phoenix v Western Sydney Wanderers
Westpac Stadium
Tomorrow 4.30pm (live Sky Sports Highlights channel)
Referee: Shaun Evans