Durban-raised batsman is back in familiar territory in a not-so familiar role - playing for the NZ test side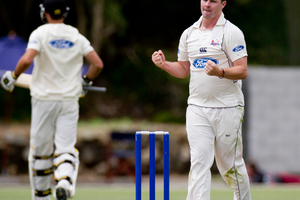 If Colin Munro is spied having a quiet word out in the middle with South Africa's batting champion Hashim Amla in the next few days he might just be saying "Brett says hi".
New Zealand's latest test cricketer grew up in Durban, dreaming of playing for South Africa.
Funny the way things turn out. His family moved to Auckland when Colin was 15. His brother Brett is three years older and a teacher in Auckland.
Brett Munro played age-group cricket for Natal with the classy Amla.
It seems reasonable for 25-year-old Colin Munro to have been pinching himself in the past day because making his test debut, and against the country of his birth, must seem one of those "believe it or not" moments.
Had it not been for James Franklin's hamstring over-stretching at practice on Wednesday, Munro would have been preparing to be part of the ODI squad for those three matches later this month.
He was effectively shut out of the test team through the words of both coach Mike Hesson and captain Brendon McCullum in the past few days, as they talked of giving the top seven another opportunity to redeem their Cape Town effort.
So Munro goes in with nothing to lose and he's got good domestic form to commend him.
He readily acknowledged the size of the step up from flogging runs off Wellington and Otago bowling attacks to matching wits and skills with world No 1 bowler Dale Steyn and his tall, awkward partner, Morne Morkel.
"I'm seeing the ball pretty well. But time will tell whether I'm ready for test cricket," Munro said.
His first-class career had a false start. He had a couple of games in 2006-07 for Auckland, having played at the under-19 World Cup alongside Martin Guptill, Tim Southee and other prominent current players such as Kieran Noema-Barnett, Ronnie Hira and Todd Astle.
That wasn't among the more successful New Zealand teams, losing the plate final to Nepal.
Munro did a stint in Adelaide at the West Torrens club.
"I wanted to learn a little more about my game, play in different conditions, get away and put a bit of pressure on myself," he said at the time. "Before I went away I was just a guy who'd come in and try and smash it from ball one. (Adelaide) taught me to try and build an innings."
And Munro had another problem. At that time he felt he was pigeon holed as a one-day cricketer, his attacking intent and shortage of lengthy innings suggesting where his future may have lain.
Last season the pugnacious lefthander scored an important century against Otago. It told him he could cut the mustard at first-class level.
This season he's done the equivalent of leaping several steps with one bound. First there was a century against Central Districts, then the big one - 269 not out against Wellington, 27 fours and 14 sixes on Eden Park's outer oval. He shared a 377-run sixth wicket stand with fellow former South African Craig Cachopa.
It was the second highest score by an Auckland batsman in first-class cricket, Auckland's sixth-wicket record against anyone and the fourth highest in all first-class cricket for that wicket. But Munro was far from sitting back and basking in the glow of that.
Next up was another century, 118 in Dunedin.
"When you score big people are looking at your next performance," Munro said. "To get 100 in that next game against in-form bowlers, like Ian Butler and Neil Wagner, was very pleasing."
At present his first-class average sits at an imposing 58.31 from 16 matches, and 124.6 this season.
So he brought strong form on the tour, had a taste of things in the T20 series and is now looking at the biggest challenge the game can offer: tackling the world's best in their back yard.
His Auckland captain, Gareth Hopkins, is delighted Munro has been picked for the tour at a time he's in prime form.
"There's no better time to be playing and testing yourself than coming off the form he's in," he said.
Munro is expecting to get some advice in the middle, but he'll back himself if things get short-pitched and hostile - and he knows he'll receive some "chin music".
"I'm pretty happy on the short ball. Obviously it's a different test against a guy who bowls at 145km/h rather than the 130s. Hopefully I can deal with it."